How to clear debt with bank tools

You can use websites and apps to shop and spend, but did you know that banks offer calculators, spending trackers and other tools to help you save, budget and manage your money wherever you are?
"We always want people to keep track of their spending and be aware of their budgeting, which I know these apps do well," says Pat White, executive director of Credit Counselling Canada.
You can, of course, use pen and paper or even a spreadsheet, she says, but you're likely already using your phone to shop and bank, so using it to budget is an easy transition. "It's easy and you don't have to gather receipts or add up expenses," White says.
Here's a look at how the Big Five banks (and Tangerine) are trying to make you pay attention to your spending habits, and in turn, help you save money:
1. TD
TD offers its MySpend app, a "real-time money management app" that's garnered measurable success, according to Dean Tseretopoulos, assistant vice-president of digital channels at TD.
"TD MySpend allows customers to track their spending habits from their eligible bank accounts and credit card accounts with instant notifications about how and where they are spending their money," he said in an emailed response to questions.
It relies on traffic-light-coloured "Spending Insights meter" updates - red means you're spending more than usual, while green means you're in the clear.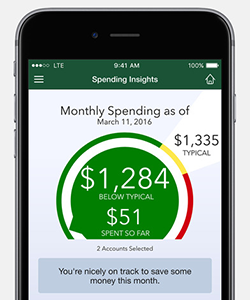 Customers who use the TD MySpend tool occasionally - about two to five times a month - spend 4 per cent less per month. Meanwhile, frequent users - more than five times per month - are spending 8 per cent less than they used to, Tseretopoulos said.
Since it launched in April 2016, 850,000 people have registered to use MySpend.
"The positive response from users clearly shows we've addressed a real challenge," Tseretopoulos said.
2. CIBC
CIBC says it has an award-winning online banking site and mobile banking app that help users manage their finances.
Personal spend manager: This is an all-in-one tool you can use to monitor spending, set budgets and create alerts so you can stay on top of your financial goals.
"It lets you see detailed information about your credit card spending by allowing you to sort your purchases into categories that are meaningful to you," Susan Kirwin, a CIBC spokesperson, said in an email. "It can help if you've ever wondered how much you spent on gas last month or whether you spend as much on entertainment as you think you do."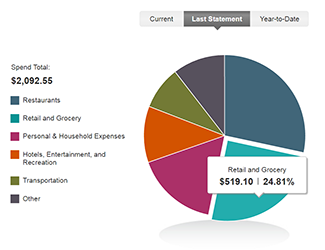 You can create spending categories, too. For instance, if you're not sure how much you spent on your winter getaway, create a "vacation" category and tag all flights, hotels and restaurants to this section, she said.
3. Scotiabank
Scotiabank offers a handful of tools that help consumers save money.
Bank the Rest: Scotiabank's most popular tool is the Bank the Rest program, in which users can arrange to have every purchase made with their debit card rounded up to the next multiple of $1 or $5.
"Pocket the difference and have it automatically transferred to a savings account," Allison Watkin, manager of Canadian banking communications, said in an email. ... "You will be amazed at how much you can save at the end of each month. It is an easy way to pay yourself first."
Info Alerts: Scotiabank helps its customers keep their spending on track with emails and text messages to let them know whenever "important" account activity is happening. What qualifies as "important" is up to the customer's discretion. You can choose to get a text each time you swipe your debit card, or receive a daily message about your balance, for example.
"Knowing every aspect of your banking activity, when it happens, can help you stay in line with your budget," Watkin said.
Money Finder Calculator: MoneyFinderCalculator helps you see where additional funds exist within your budget or how to work financial goals into your budget (such as a big trip). It's just a matter of looking at your income next to your expenses, Watkin said, and this calculator helps you do that.
4. Bank of Montreal
MoneyLogic: In 2013, BMO unveiled MoneyLogic, which helps bank customers set specific savings goals and track their progress, while also building and watching how closely they adhere to budgets.
Like the other tools, MoneyLogic will notify you if you're spending above limits you've set for yourself. It also tries to break down your spending into categories and charts to make sure you understand where your money is going.
5. RBC
myFinanceTracker: RBC's myFinanceTracker offers account summaries, spending and cash flow breakdowns, budgets and goal setting, and a financial calculator to log income on pay day and when you need to pay your bills.
6. Tangerine
The branchless bank Tangerine revamped its mobile banking app so that clients can use it to pay bills, transfer or email money and even sign up for new accounts. The new app includes a secure chat so Canadians can talk to a bank representative in real time.
Tangerine offers Orange Alerts, which sends you emails or phone notifications on account activity. These alerts will let you know if you've dipped below a certain amount in your chequing account, if a bill is due in a few days, or if a payment or e-transfer cleared.
"Tangerine has a long history of creating simple and convenient banking experiences for our clients, and we're always looking for ways to help our clients make smarter decisions with their hard-earned money," Derek Kirk, a Tangerine spokesperson, said in an email.
Whether you have a specific savings goal in mind or simply want to keep a better eye on your budget, your bank has smartphone tools that can help.
These little automatic reminders go a long way, White says. They're a sombre second look at your spending and a way to measure your progress toward your savings goals.
See related:
Virtual reality could change the face of shopping, banking, rewards
,
Mobile banking trends help branchless banks evolve
,
Credit card, banking secrets your bank is keeping
Published March 23, 2017
Most recent Product Features Stories