Clear your clutter, improve your finances
The challenges of a jumbled lifestyle are real. Clutter can hinder your physical, emotional and financial health. Though it won't happen overnight, figuring out a method of organization that works for you and taking action to tidy up can lessen your stress and leave your finances and your body healthier.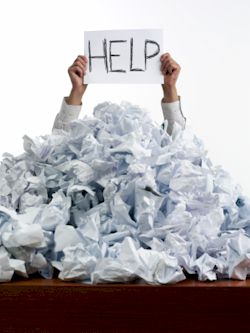 Clean up your finances

When your life is cluttered, it can affect your health and your finances. And too much clutter can be overwhelming; where should you begin? Know what you need to keep and take it one small step at a time.
Main story: Clear your clutter, improve your finances
A survey commissioned by Professional Organizers in Canada (POC), shows seven in 10 Canadians are disorganized at home or work, or, more commonly, in their ability to manage time. An earlier POC study found that 90 per cent of respondents admitted that disorganization burdened them with feelings of stress, frustration and failure.
"Decluttering can get you into better physical and financial health," says professional organizer Dorothy Breininger.
Breininger is an expert on A&E Television's series "Hoarders" and wrote the book "Stuff Your Face or Face Your Stuff" after losing 75 pounds while organizing her own life. In an email interview, she wrote that most people see improvements not only in their overall health, but also in personal finance management when they organize their:
Space (dealing with physical clutter);
Face (adjusting their attitude);
Pace (mitigating feelings of being overwhelmed); and
Grace (managing their relationships).
Root causes of money-related mess
According to Breininger, fear of not having enough money compounded by the inability to face that challenge can drive financial clutter. She advises clients to clearly define where they experience the most chaos, and then assess the true meaning of decluttering to them personally before tackling a potentially daunting mess.
Consolidated Credit Canada's executive director Jeffrey Schwartz has observed some common patterns among hoarders and clutterers who approach his non-profit credit counseling agency. Schwartz says hoarding can mask a compulsive need to purchase or acquire possessions, and notes that people who hoard usually have several credit cards.
"Clutter can cloud a person's vision as it relates to their planning strategy and can lead to a lot of waste because disorganization leads to inefficiency with money," says Schwartz.
Schwartz also says some consumers start collecting bills and statements with good intentions after someone tells them they've got to keep all their receipts. If those documents are unorganized, they can get lost or dated, which can lead to financial problems. (See sidebar for a breakdown of what types of financial documents you need to keep and which you can toss).
"Hoarders will typically have trouble in categorizing or organizing their stuff. Then they end up with one big pile of bills -- and potentially cheques and promotional materials -- and it doesn't get dealt with."
Tackling clutter practically
Breininger has a helpful metaphor for dealing with clutter. "Decluttering is a bit like going to the gym," she says. "If you have twenty pounds to lose, you can't expect to get of rid of those twenty pounds overnight. The same is true with clutter. It's the small, regular steps that can bring each one of us to our own place of 'zen' [enlightenment]."
Breininger offers three simple steps to start organizing any room, using a 'left-to-right, top-to-bottom' approach.
1. Stand in the doorway of the room where you plan to start.
2. Look to your left and begin there. If there is a book case immediately on your left, start on the top shelf and slowly work from the top down.
3. Work in 15-minute intervals. When you are finished with each session, you will always be able to see where you left off and appreciate as the space gradually becomes decluttered (which is inspiring for each new session).
Finding clutter simplicity
Asked what he advises clients with hoarding or cluttering issues, Schwartz replied, "One of the first things we say is to use the 'KISS' rule by keeping it simple wherever possible."
Schwartz says people should touch their mail or email only once. "What that means is, once you pick it up, deal with it," he explains. "If it's garbage, throw it out. If it's a bill that needs to be paid, file it with your to-be-paid bills."
Schwartz personally uses a basic filing system, placing collapsible file folders where he can easily access them and apply his touch-it-once rule. "If I'm looking at my mail, I've got my folder and my garbage bin right next to me," he explains.
Not a magic formula
Schwartz cautions that clearing clutter and becoming organized are only first steps in dealing with financial concerns. He's seen his share of methodical individuals who face serious money problems.
"We get calls from frustrated people who are very well-organized, know how to budget and understand their cash inflows and outflows," acknowledges Schwartz. "However, they haven't taken that next step to make their money work more efficiently."
That's because even though they're highly organized and are meticulous about everything they do, sometimes they lack the clarity or financial literacy needed to use their organizational skills as a way to better manage money.
To help make that breakthrough, Schwartz suggests thinking about things as belonging to one of three piles: trash, keep and sell. "If you don't want it and there's still some value in it, have a garage sale. Sell it, and then use that money in a more positive way to work for you -- such as putting the cash into an investment fund or a registered education savings plan for your children."
Effectively managing clutter can have a domino effect on people's lives, summarizes Breininger.
"When we are less stressed from the physical clutter surrounding us, procrastination diminishes, and we gain the confidence to address areas of life we avoid, including finances, relationships and even lack of sleep."
See related:
Expert Q&A: Plastic that's good for the planet
;
Are paperless statements in the cards for you?
Published August 27, 2013
Most recent All credit card news Stories