Pros and cons of co-branded credit cards
Many stores offer credit cards that you can use only in that particular store, but some offer co-branded credit cards. These cards are a partnership between a retailer and a bank or card payment network, such as Visa or MasterCard. Examples include the Costco Capital One MasterCard or the Walmart MasterCard.
Thinking about adding a co-branded card to your wallet? Weigh the pros and cons before you fill out an application:
The pros
1. Convenience -- everywhere you shop.
Unlike a regular store-branded credit card, you can use co-branded cards anywhere credit cards are accepted. And unlike a regular credit card, you can earn rewards or discounts at the partnering store, just as you would with the store-branded card.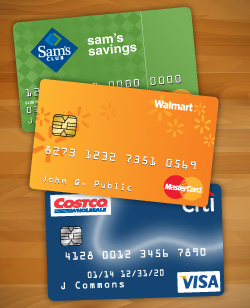 It's a convenient combination.. If you can get a co-branded card from a retailer you frequent, you can use one card for all purchases, plus know that you're getting a little extra at your favourite store.
2. Rewards in-store and everywhere else.
Co-branded credit cards "typically give ways for consumers to earn loyalty rewards on a program faster for their everyday expenditures," Julie Bellissimo, manager of corporate and public affairs for TD Bank Group, said in an emailed response to questions.
"With MBNA co-branded credit cards, there are accelerators that allow cardholders to earn more points. Depending on the program, accelerators could be groceries, gas, hotel stays or travel."
With MBNA's Best Western card, for example, you earn five Best Western Rewards points for every $1 spent at Best Western properties, and one point for every dollar on other purchases.
Many co-branded cards also offer bonus rewards or other incentives to sign up. For instance, with the MBNA Best Western card, you earn 20,000 Best Western points on your first purchase -- enough for a free night's stay.
Another example: The current BMO Sobeys AIR MILES MasterCard includes 500 bonus miles with your first purchase.
Cards offer a variety of sign-up bonuses, and the extra points, miles or cashback change frequently. If you have your eye on a card, and it doesn't currently include a sign-up bonus, check again next month or next quarter to see if that's changed.
3. Exclusive offers and other benefits.
With your co-branded credit card, you may be entitled to other perks, such as free shipping or an extended return policy from the partner retailer.
You also may be invited to special savings events or receive exclusive promotional offers. The Hudson's Bay Capital One MasterCard, for example, includes access to up to 28 savings events and promotions each year, depending on how much you spend with your card.
Co-branded cardholders also may receive advance notice of sales, invitations to special shopping nights, and samples of beauty products. For instance, the CIBC Tim Hortons Double Double Visa card, in addition to helping you earn free Tim Hortons products, also offers discounts on car rentals and guaranteed hotel reservations.
The cons
1. A risk of increased spending.
Monica Hampu, manager at Solutions Credit Counselling Service, says people tend to shop more at the stores for which they have co-branded credit cards and where they receive rewards. (This is, of course, why retailers offer them.)
According to MasterCard, "Co-branded cardholders outspend their counterparts by approximately $4,900 per year."
While shoppers may be receiving perks for their loyalty, "that doesn't mean it's always the best idea" to use your co-branded card, Hampu says. You might be inclined to buy something at your favourite retailer to receive the points, even if it's cheaper at another store.
2. Higher interest rates.
If you are carrying a balance on your co-branded cards, you may be paying a lot for those "free" points.
For instance, MBNA offers lower interest credit cards (some are as low as 9.99 per cent), while interest rates on MBNA co-branded rewards cards are much higher -- 19.99 per cent on purchases. For many co-branded credit cards, 19.9 per cent is standard.
"The interest rates for co-branded MBNA credit cards vary by product based on a number of factors," Bellissimo said. "For example, interest rates are higher or lower depending on the type of benefits available and whether the card has a rewards program."
As with any credit card, though, make sure you make your payments on time. If you miss a payment, you may find that the interest rate can jump -- up to as high as 29.9 per cent, in some cases. Check your card's fine print for any penalty rate.
Co-branded and all credit cards "are good and the perks are good as long as you know how to manage them," Hampu says. That means always paying what you charge every month. "But a lot of people don't do that," she says "They just look at the perks."
Spending to earn perks, points or a sign-up bonus gets you in financial trouble if you're unable to pay your monthly bills in full. "Paying minimum payment, you never pay your debt in full because you mainly pay the interest," says Hampu.
3. You can be lured into having too many cards.
Finally, there are so many cards available, it's easy to spread yourself too thin by adding too many cards to your wallet.
You might already have a general-purpose credit card and several store loyalty cards, such as a PC Plus card or HBC Rewards card. If you apply for the corresponding co-branded credit cards as well, you could end up with so many cards it's difficult to keep track of balances and payment dates.
4. Co-branded partners change, creating challenges for cardholders.
Sometimes co-branded relationships come to an end, leaving you holding a credit card that may no longer offer you rewards -- and with the temptation to apply for the new card the store is offering.
Take, for instance, Costco, which used to partner with American Express and now offers the Capital One MasterCard in Canada.
When co-branded partners change, if you don't take the new card, you'll end up with a useless card and potentially lose out on points, depending on how the store handles any remaining rewards on the defunct cards.
Plus, if you've had the co-branded card for a long time, any good repayment history on it will be reflected on your credit report for only six more years. Then, all that good history will be lost.
Whether you decide to add a co-branded card or not, you should treat a co-branded card like any other plastic: consider the benefits and read the fine print before you complete an application. Choose a card that suits your actual needs and shopping habits, rather than one you'll only use until you've earned the sign-up bonus.
Hampu says everywhere you look, nearly everywhere you shop, there's a co-branded or store card offered. But you must always use your credit wisely. If you do, she says, "There's a lot of perks out there."
See related:
Store credit cards: the good, the bad and the ugly
,
5 basic rewards-chasing mistakes
Published August 30, 2016
Most recent All credit card news Stories