10 ways to compare credit cards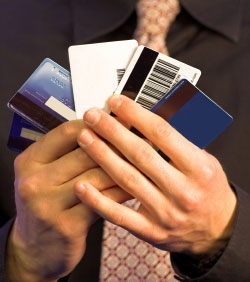 All credit cards are different. It's important to discover which credit cards are best for your situation and way of life. There are many types of credit card plans available, which can make choosing one or two a difficult decision. The best card for one person may not be the best card for you. The following will help you wade through the different types of credit card plans and choose the best one for your situation.
Rewards credit cards. These offer you points for every dollar you spend. Points can be redeemed for reward items such as cash, merchandise, groceries or gift cards. If you use your credit card frequently, you may benefit from a credit card with a yearly fee that offers more points per purchase, so you can collect rewards faster. A credit card without an annual fee may save you money, but will require more patience to accumulate enough points to redeem for what you want.
Frequent flier credit cards. Similar to rewards cards, these allow you to accumulate points that are redeemable directly for a free flight, or a discount on a flight. The Aeroplan credit card has a yearly fee but is a bit more inclusive and can be used for any flight on any plane. Frequent flier cards may also offer travel insurance for your business and vacation needs. The insurance is limited, though, so you may want to purchase an additional plan, which may or may not be offered through your card plan.
Balance transfer credit cards. Cards such as Scotiabank's Scotialine Visa Card offer a line of credit. They act like a real line of credit but with the usual credit card privileges and a reasonable grace period. Save money by transferring your balance from higher interest rate credit cards to a lower rate plan. Check the fine print, though, as there are often additional fees just for the privilege of transferring a balance from one card to the other, in addition to the rate.
A student card. Those such as the TD Canada Trust Visa student card are designed to meet the needs of college and university students. They can be used for everyday purchases that a student might make such as DVD rentals, food and book purchases, while helping to establish their credit rating for the future. They offer competitive low rates. These cards may have low credit limits, so may not be a good option if the student needs to buy furniture or electronics.
Prepaid credit cards. BMO's Mosaik Prepaid Travel MasterCard, for example, is preloaded with cash and can be used anywhere that a MasterCard or Visa is accepted. These cards do not affect your credit rating and can be reloaded at any time. They are a wise choice for online credit card transactions or while travelling. The reloadable cards require you to fill out an application and have fees attached for every service you require. There are also cards that offer privacy such as unloadable prepaid credit cards that don't involve filling out forms.
Article written by Melanie Dixon
Updated November 13, 2009
Most recent Credit Account Management Stories