Consumers spared credit card surcharges -- for now
For the moment, Canadians who love their rewards credit cards have been spared from the possibility of having to pay extra to use them with some retailers -- or having shops turn down the cards altogether. On July 23, the Competition Tribunal ruled against the Competition Bureau's legal challenge to restrictions that Visa and MasterCard impose on merchants that use their credit card payment networks. But the tribunal called for regulation to solve complaints about merchant processing fees -- meaning that rewards-chasers aren't out of the woods yet.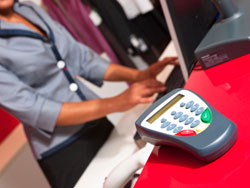 The crux of the Competition Bureau's argument is that Canadian merchants pay among the world's highest credit card acceptance fees due to system participation requirements by Visa and MasterCard. Merchants who accept Visa and MasterCard are forced to honour all types of credit cards from the brands, including premium rewards cards that cost them extra.
According to the Canadian Bankers Association (CBA), there were 73.9 million Visa and MasterCard cards in circulation as of October 2012 representing about 92 per cent of the Canadian credit card market -- a figure that critics see as evidence the two wield too much market power.
What are card acceptance fees?
Also called merchant or transaction processing fees, card acceptance fees are what retailers are charged each time a customer pays with a credit card.
A rate comparison chart from the Canadian Federation of Independent Business (CFIB) shows that Visa and MasterCard acceptance fees range from 1.65 to 2.71 per cent of the purchase price. CFIB president Dan Kelly said in August 2012 that fees for some ultra-premium American Express cards were closer to 5 per cent.
Eighty per cent of those acceptance fees get distributed to credit card issuers (banks and other financial institutions) as interchange fees. System acquirers -- financial institutions that process the transactions for merchants -- also charge a service fee. The card networks -- Visa and MasterCard -- set acceptance fees based on the issuers' and acquirers' fees, plus a little extra for themselves.
Merchant representatives react
The CFIB voiced disappointment with the tribunal's decision, noting that Canadian small businesses had hoped that merchant surcharging and the ability to decline high-cost credit cards would be allowed, enabling sellers to push back against what they say are rapidly rising transaction processing fees.
The Retail Council of Canada (RCC) also expressed unhappiness with the ruling.
However, both said they were pleased with the Tribunal's conclusion that government regulation is the best solution to the Competition Bureau's concerns -- particularly for issues associated with hidden fees and consumer surcharging.
Consumer advocacy groups applaud
The Consumers' Association of Canada (CAC) lauds the Tribunal decision.
"The CAC believes both the no-surcharge and honour-all-cards rules are important for consumer protection and to ensure that consumers have an appropriate choice of payment methods," the association says.
Similarly, the Consumers Council of Canada (CCC) supported the Tribunal's logic, saying the decision insulates shoppers from "price surprises at point of payment." The CCC echoed the Tribunal's call for card payment system regulation.
The CBA also welcomed the decision, which is no surprise considering the case dismissal protects the fee income and profits of credit card companies. CBA president Terry Campbell focused on the merchant benefits of credit cards.
"What is often overlooked is that paying with cash is one of the most expensive forms of payment for retailers, if you include time and effort spent handling, counting, reconciling and depositing cash every day, not to mention higher security costs and safety concerns for a store's employees," said Campbell.
Consumer experts weigh in
"Right now, if the price is the same whether I pay cash, debit or credit, I'm going to choose the method of payment that saves me the most money," says personal finance columnist Robb Engen. "That means using a cash back or travel rewards card. A 2 or 3 per cent [merchant-imposed] surcharge would negate the advantage of using a rewards card."
In a CBC panel discussion that addressed the impact of the Tribunal's decision on consumers, senior business correspondent Amanda Lang emphasized the importance of fee transparency, which would allow Canadians to make an informed decision about the most sensible payment method.
"Consumers should know that their card doesn't just cost you money, it costs everyone money," advised Lang. "Retailers pass the merchant processing fee on to the cardholder, the person paying cash -- everyone who is paying to buy a good. As long as we all want to pay it, great. But it should be transparent."
What's next?
Canadian decision-makers have been keeping a close eye on what's happening in other countries. After Australia allowed merchant surcharging, the government had to intervene because it got out of control. Some Aussie taxi services were bulking up consumer fares with card surcharges as high as 10 per cent. The Reserve Bank of Australia issued a decision that took effect in March, allowing the card networks to limit surcharges imposed by retailers.
Minister of Finance Jim Flaherty issued an official statement saying he has requested a special meeting to discuss the Competition Tribunal's findings and to plan next steps. That senior-level group is called the Finance Canada Payments Consultative Committee.
Flaherty says Canada's business owners, entrepreneurs and consumers "deserve clear information and fair and transparent rules on the type of payment system they use."
See related: Merchants and issuers clash on fees; Merchant cost of accepting plastic jumps
Published July 30, 2013
Most recent Reward Programs / Cash Back Cards Stories