Consumer proposals offer alternative to bankruptcy
Not being able to pay your bills is difficult and stressful. You're worried about damaging your credit or, worse, losing assets. And you're embarrassed by the stigma of bankruptcy.
That's not your only option, though.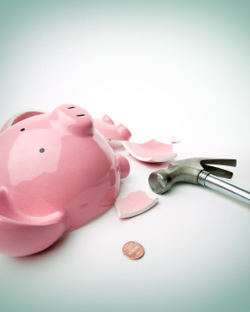 Canadians who can't pay their bills can turn to credit counselling, debt management plans, debt settlement or consumer proposals before filing for bankruptcy. For residents of Alberta, Saskatchewan, Nova Scotia and Quebec, voluntary deposit programs provide another alternative.
Step one: credit counselling
When you're having trouble paying your bills, your first step should be to seek credit counselling. You'll get advice from a non-profit organization that provides education and sometimes -- for a modest donation (typically under $100) -- a debt repayment plan, says Andy Farber, partner at financial advisory firm Farber Financial Group.
Jay Harris, a licensed insolvency trustee at Harris & Partners Inc., says counselling is best used as more of a budgeting tool, as you're expected to repay 100 per cent of your debts over a few years through a debt repayment plan, rather than pay a fraction of what you owe through a debt settlement.
A credit counsellor can help you craft a debt repayment plan (also known as a debt management plan, or DMP).
With a DMP, the counselling agency negotiates with your creditors for a lower interest rate and lower monthly payments on your debts, then comes up with a single lump sum for you to pay monthly. You make payments to the agency, which doles out the money to your creditors. Creditors can't change their minds or back out of the plan once it's started. The debts are frozen and the creditors must adhere to the agreement, says Harris.
A debt management plan will mar your credit score, but not significantly. Your score will carry an R7 credit rating -- a notation that you are making regular payments to creditors through a special arrangement with your credit counsellor. Once the accounts have been paid in full, the repayment plan information will drop off your credit report after two or three years.
With a debt settlement plan, a for-profit debt settlement company will work with your creditors to get them to settle on a lump sum that is less than what you owe. The fee for this is usually a percentage of the amount of debt they removed from your balance. A debt settlement plan will stay on your credit report as an R9 rating -- the worst rating -- for at least six years.
Because debt settlement companies are not licensed debt professionals, many creditors refuse their settlement plans. You will have to pay the company whether or not your creditors accept their settlement plan.
If neither of those options is suited for you, you can try a consumer proposal.
Consumer proposal vs. debt settlement
A consumer proposal is also orchestrated by a licensed insolvency trustee. It is a repayment plan that you and your creditors agree on to reduce and settle the debt owed. The balance owed can be repaid at any time, but a consumer proposal has a negative impact on your credit for three years following the date of repayment.
Unlike a debt settlement plan, a consumer proposal is legally binding on all creditors once the majority of creditors have agreed.
In addition, the fees for a consumer proposal -- or a bankruptcy filing -- are regulated by the federal government, and they tend to be relatively moderate. These fees are also incorporated into the repayment plan, so there are no upfront fees.
Finally, a consumer proposal needs only the approval of the majority of your creditors, while a debt settlement plan requires all your creditors to accept the agreement. According to the Canadian Credit Counselling Society, for-profit debt settlement companies don't disclose that creditors often can and do refuse to negotiate debt settlements.
Consumer proposal vs. bankruptcy
A consumer proposal has some advantages over bankruptcy, too.
In bankruptcy, you surrender nearly everything you own, subject to exemptions, which vary from province to province. Often, exemptions include: Registered Education Savings Plans (RESPs), real estate equity under $10,000 and some vehicles and household items. Anything else, you surrender to a federally licensed insolvency trustee, who divides your assets among your creditors.
With a bankruptcy, you also pay a proportion of your income every month to the trustee. If you are filing for bankruptcy for the first time, your unsecured debts will be eliminated, or "discharged," after nine months. Subsequent bankruptcies will be discharged after a longer period of time, up to 36 months later.
With a consumer proposal, though, you can't lose your house or other assets. They're not even on the table.
Also, with a consumer proposal, your monthly payments are fixed once a proposal agreement is signed. Not so with bankruptcy.
If your income rises during the bankruptcy term -- say, you work some overtime or get a new job -- your payments will also go up, and you may be forced to make those payments for a much longer duration before your debt is discharged.
Finally, a bankruptcy results in an R9 rating, and it will stay on your credit report for six years from the date your bankruptcy is discharged. Filing a consumer proposal will add an R7 rating to your credit -- but an R7 is better than an R9.
All these benefits of consumer proposals have to be weighed against the amount you'll be paying, though. A consumer proposal typically costs more than a bankruptcy in the long run, since consumer proposals require 20-30 per cent of the debt to be repaid. So if you have $100,000 worth of debt, the licensed insolvency trustee would likely offer $20,000 or $30,000 to your creditors.
A consumer proposal also won't do anything to help with your secured debts, such as your mortgage and car loans. A trustee can advise you on how to deal with those.
Province-specific options
In four provinces -- Quebec, Alberta, Nova Scotia and Saskatchewan -- residents have additional options:
Quebec voluntary deposit: This alternative allows residents of Quebec to register their debts at the Court of Quebec and voluntarily make payments through the office of the court. This service is free and the interest rate is capped at 5 per cent per year.
Alberta Orderly Payment of Debts: This service is free if debtors take finance education classes, and interest is capped at 5 per cent a year.
The Nova Scotia Debtor Assistance Program and Debt Management Plans Saskatchewan operate in much the same way as the Alberta Orderly Payment of Debts, aside from the stipulation about having to take financial education classes.
The Alberta and Saskatchewan programs are run by non-profits. The Quebec and Nova Scotia programs are run by the government.
See related: What to do if you fail your debt consolidation plan, Ways to overcome the stigma of debt
Updated September 12, 2016
Most recent Bad Credit / Credit Repair Stories