What are the rules on credit card convenience fees in Canada?
Paying by credit card has many perks, but convenience sometimes comes at a cost. You could be hit with a convenience fee, a charge tacked onto your bill for paying for a product or service using an alternative payment channel or method that isn't standard for the merchant.
"It's a special service fee to accept a credit card that's specific to certain industries only," says Corinne Pohlmann, senior vice-president of national affairs for the Canadian Federation of Independent Business. "It's very strict, but it's saying, 'If you want to pay me in this way, it costs me and will cost you to let you use that.'"
When can you be charged a convenience fee?
Say you typically pay for your utility bills via cheque or in person with cash and debit. The company could let you pay via credit card as a convenience -- but would add on a fee, Pohlmann says.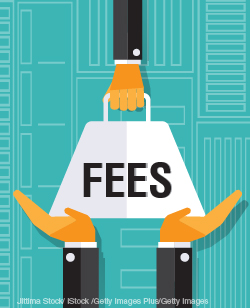 There are rules and regulations companies need to abide by, though. Convenience fees cannot be added to "card present" purchases.
As long as you're paying in person and upfront with your Visa or MasterCard, you won't face an additional fee in Canada, says Nicolas Beique, founder of Helcim, a credit card processing company based in Calgary, Alberta. (With debit, there are no limitations on surcharges in person, which is why the local convenience store is allowed to charge you $0.25 for purchases that are less than $5.)
Convenience fees are most often added to:
Purchases made over the phone, online or via mail. These are called "card not present" environments.
Education/tuition and childcare.
Taxes and fines.
Utilities and rent.
There's a reason why these categories are allowed to add convenience fees, Beique says.
About 1.5 to 2 per cent of a purchase paid for by a credit card goes to credit card processing companies, the credit card company and the bank. While companies such as Amazon or eBay can eat those costs or even work it into their pricing, government entities and schools can't afford to lose out on these costs.
"If the city collects $100 for a ticket, without Visa creating a special permission, they'd be going into the red," Beique says.
Merchants must tell you up front that you're paying for a convenience fee.
"Visa and MasterCard don't want consumers to have a negative experience or a surprise," Beique says. "This part has to have complete transparency, although it may appear as an 'administration fee' or 'ticket management fee.'"
There are limitations as to how much merchants can charge you, too. Visa says merchants can charge only 1.75 per cent as a maximum convenience fee for online purchases. MasterCard doesn't have any limitations on the amount.
The ins and outs of convenience fees
Here's what each of the credit card companies had to say about convenience fees:
Visa:
"In June 2015, Visa introduced a service fee program in Canada for a select group of merchant categories, including taxes, utilities, rent, education/tuition, childcare and fines," Visa Canada said in an emailed response to questions. "For education/tuition and childcare, the card issuer wrote, only transactions greater than $1,000 can have a service fee applied.
"The program is available for transactions in card-not-present environments only (online, mail and telephone order)," the email said. "This program is designed to offer merchants in these select categories the ability to enjoy the benefits of Visa acceptance, while offering consumers the ability to use their Visa cards in places where they traditionally couldn't."
MasterCard:
"What I can tell you is that convenience fees are at the discretion of the merchant and not the payment network," MasterCard spokeswoman Lauren Mostowyk said in an email. "Opening up card acceptance gives consumers another payment option and choice in how they want to pay."
American Express:
"Under American Express's policy, 'select transactions do qualify for convenience fees including taxes and tuition,'" Molly Faust, a spokeswoman for American Express, said in a statement. "However, a merchant must provide an actual convenience in the form of payment, for example, online payment, interactive voice response or a payment kiosk. The fee must also be clearly disclosed before the transaction is completed."
What you can do if you encounter a suspicious fee
Convenience fees are still very new, ushered in over the past few years leading up to 2016.
Before that, credit card companies turned a "blind eye" to a lot of the charges that were going on, Beique says. It's a bit of a sore subject for credit card companies who want their clientele to have a seamless experience with their cards, he says, but card issuers have been forced to carve out measures.
The rules covering convenience fees may not be policed closely, which is why consumers could come across extra fees tacked on by merchants.
If you're running into convenience fees you don't agree with or that don't necessarily fall under the guidelines listed above, call the merchant and the credit card company to ask why these fees are being applied, Beique says. And remember, the merchant always must notify you first that there will be a convenience fee to pay by plastic.
See related:
Why we pay card fees -- and how to avoid them
,
Should you pay your tax bill with a credit card?
Published August 17, 2016
Most recent All credit card news Stories