Errors on your credit report? Here's how to correct them
Your credit report is significant -- it can make or break your application for a loan, a home or even a job. Having an error on it can be a huge impediment. Check your report for common mistakes, and know how to correct it if you find one.
"You need to be proactive about checking your credit report on a regular basis just in case there are any problems that do come up," says Jeff Schwartz, executive director of Consolidated Credit Counseling Services of Canada. "It's better to find out earlier than later when you need to apply for credit. You don't want to be the last one to know."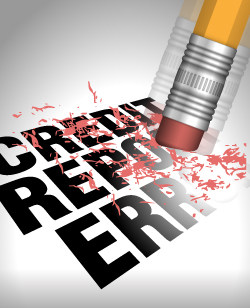 Once an error is on your radar, the onus is on you to correct it, too, says Richard Moxley, spokesperson for eCredit Fix, which helps consumers learn about improving their credit score. "It can be a
tedious process, it takes a lot of patience and initiative,"
Moxley warns.
You should pull your credit report from Equifax Canada and
TransUnion Canada at least once a year, although Schwartz suggests
quarterly checkups if you use credit often.
Common errors
Once you have both your credit reports, look for these potential inaccuracies that tend to be the most common:
1. Your personal information: Make sure your full name, home address, date of birth and phone number are all correct. Errors in your personal information could be a matter of having a common name, but other times, it could be a red flag for fraud.
"What will happen a lot is people will have multiple versions of their credit report out there," Moxley says. This is especially the case if you're new to Canada or newly married.
If you're seeing addresses or phone numbers that never belonged to you, it could be a sign that your account is getting mixed up with that of another person with your name. Or it could be a warning sign of potential identity theft.
Check your social insurance number carefully, too. If it's off by even a single digit and you don't catch it, you could find yourself with a big headache.
2. Your accounts and payment history: Make sure every credit card, line of credit and loan that you have opened is on your credit report and ensure that your accounts accurately portray your payment history. If you're paying on time, your report should reflect that. If the creditor is in the wrong and isn't posting updated payments, it will mar your reputation.
Incorrect balances, duplicate accounts, and misreported account statuses turn up, Schwartz says.
Moxley says this often happens with car finances -- you may have cleared the debt, but the account hasn't reflected it yet.
3. Your resolved accounts: Moxley says that the public records portion of your credit report, which shows accounts that went into collections, bankruptcies and judgements, tends to be laced with errors.
People with these incidents in their financial history are most vulnerable to mistakes on their credit report, Moxley says.
"Ninety-nine per cent have errors on their report and they stay on longer," he says. That's because these accounts may be resolved, but creditors may not be quick to update this information unless you follow up with them.
4. Signs of identity theft or fraud: Credit inquiries that you didn't authorize, and credit cards, lines of credit or other loans that don't belong to you are red flags.
How to correct an error
If you catch a mistake in your report, get in touch with the creditor handling your account. A simple error, such as a name change or address change, could be easily resolved with a verification of your identification and a piece of mail, for example.
For accounts that don't belong to you or credit inquiries that you didn't make you may be sent over to the fraud department, which will launch an investigation.
If you're dealing with a disagreement over a paid debt, you need to build your case before going to the credit bureaus. Pull together receipts, credit card statements that show you cleared the balance, police reports if you were a victim of fraud and any other documentation that'll support your cause.
If your creditor agrees with you, get it in writing so that you have proof. The creditor should inform the bureaus, but you must confirm that it's taken this step.
With your documents in tow, fill out the appropriate paperwork, such as Equifax's credit report update form, which asks for your account details and the reason for launching an investigation.
When you have all of the pieces together, write a concise dispute letter, attach your evidence and send the package to the two credit bureaus by registered mail. Make sure you save a copy for your own records.
"You need to be meticulous every step of the way," says Schwartz. "Hang on to correspondence from your creditor and your credit bureau for future reference."
Equifax logs the dispute in its tracking system and gets in touch with the creditor. Once the creditor verifies the information, you'll get a confirmation letter and the file will be updated, Tom Carroll, an Equifax spokesperson, said in a response to emailed questions.
"If the dispute is not completed, because the creditor may have to consult archived records or ... remote courthouse files, or perhaps Equifax requested additional data -- we notify the consumer within the 30 days that their dispute is still ongoing and we will advise when it is completed," Carroll said. "These circumstances are very rare."
Either way, both Equifax and TransUnion are required by law to respond to your error request within a month's time.
"In Canada, Equifax has streamlined the consumer dispute process over the past decade to make consumer relations and investigations more efficient and improve our response times to consumers," Carroll said.
Steps if you're still unsatisfied
If you still aren't happy with the outcome, or you're handing over your credit report while still waiting for a correction, you can add a consumer statement to your report.
"Don't be aggressive, but say that you've disputed this, it's erroneous and you have documentation to prove this," Moxley says. Most agencies allow about 400 words to explain your stance. If you've already received confirmation from your creditor that it's in the wrong, it's worthwhile to have that paperwork to prop up your claim when you're applying for a loan or housing, Moxley says.
Finally, you can contact a lawyer or file a complaint with your province's consumer affairs department. Service Alberta, Consumer Protection BC, and Consumer Protection, are prime examples of agencies that handle complaints between creditors and consumers.
See related:
Credit file alerts Canadian equivalent of U.S. freeze
,
What to do if your debt is sold to a collections agency
Updated March 4, 2016
Most recent All credit card news Stories