Banking, credit differences between the U.S. and Canada
If you're an American looking to plant roots in Canada, prepare for myriad changes. One thing to not overlook: new credit and banking rules. While personal finance in Canada works similarly to our southern neighbor's, there are a few key differences that often throw off American newcomers, experts say.
"As far as the banking system goes, it's very different, but as far as the credit system, it's pretty similar," says Richard Moxley, author of The Nine Rules of Credit and spokesman for eCredit Fix, which helps consumers learn about improving their credit score.
However, there are challenges for Americans moving to Canada because their credit history may not follow them north, says Alain Forget, vice president of U.S. sales and business development with Royal Bank of Canada.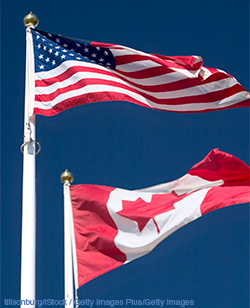 "You may come across challenges getting a credit card or mortgage," he says.
Here's a look at five ways Canadian finance and credit differ from the States':
1. Credit scores.
FICO or Beacon score? The two are nearly identical, the experts say, but Canada uses Beacon, while the U.S. favours FICO.
"They're two different terms that are similar to each other at the end of the day," Forget says.
Canada's credit monitoring agencies are TransUnion and Equifax. The U.S. uses these two, and also Experian.
Slight differences in factors that formulate your credit might exist. However, one significant disparity is that, in the U.S., rent payments can be reported to credit bureaus. This is rare, but it does happen. In Canada, rent payments do not factor into your credit score.
In Canada, negative information stays on your credit report for six to seven years, depending on what province you live in. In the U.S., it's seven to 10 years.
2. Fees and banking.
Canada's banking system is wrapped up in the "Big Five" - TD, Scotiabank, BMO, CIBC and RBC. This always surprises Americans, who are familiar with at least two dozen options.
Fewer banking options comes with a price. "The fees are much higher in Canada for everyday banking plans and transactions because of lack of competition," Moxley says.
Forget says there is a silver lining, though. Each bank will zero in on a certain aspect, such as lines of credit, mortgages or family plans. Your job is to shop around to find the most competitive price for the particular product you're seeking.
Here's another perk: You can keep a U.S. dollar account with your Canadian bank, which typically isn't an option in the reverse, Forget says. Canadian banks let you open accounts for U.S. currency, British pounds or euros. In the U.S., most Canadians are hard-pressed to find an American bank that will hold their Canadian currency.
3. Cheques.
U.S. banks don't hold onto post-dated cheques.
Forget learned this the hard way. When he and his wife first got a mortgage in Florida, they were still building their credit. They wanted to make a good impression, so they wrote out six post-dated cheques ahead of time for their monthly payments.
Their lender processed all six payments at once, causing the Forgets to overdraft. Canadian banks will hold onto post-dated cheques, but at a fee.
"You need to familiarize yourself with your bank's practices," Forget says.
4. Mortgages.
It can take 45 to 60 days to get a mortgage in the U.S., Forget says. In Canada, the process is nowhere near as lengthy.
Getting a mortgage is also cheaper in Canada, with fewer taxes and lower closing costs.
Moxley says consumers trip up on terminology. In the U.S., you typically get into a 30-year home loan, but in Canada, homeowners sign up for three-, four- or five-year terms that are up for renewal after that.
"That's a big change for Americans coming over," Moxley says.
5. Credit and loans.
When you cross the border to start anew, you're shedding your old banking and credit history, too. Starting from scratch with credit is the biggest surprise for American consumers.
"They don't realize they're coming in completely fresh, that they have no credit, no matter how good their credit was before," Moxley says.
To build your Canadian credit story, you may have to rent, get a credit card with a low balance, and prop up your credibility with other lending products such as a car loan.
Pay your loans diligently, and within months, you'll start getting approved for higher amounts of credit, Forget says.
"The same rules and principles apply when it comes to good credit, no matter what country you're in," Forget says.
Don't be afraid to reach out for help, either. Forget specializes in helping Canadians who have relocated to the U.S., and RBC offers the same services to newcomers to Canada.
Work with banks by providing them with as much documentation of your previous banking life as possible, Forget says. With your file of records in tow, banks can help to facilitate your transition.
See related:
Newcomer credit cards: Choose and use wisely
,
Moving abroad? Tie up loose credit, debt ends
Published November 8, 2016
Most recent All credit card news Stories