Liberal caucus pushing for government regulation of card industry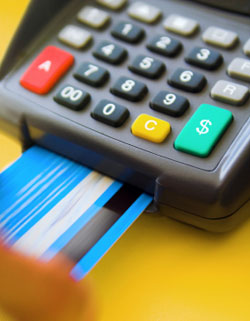 Worries regarding merchant fees and billing practices are prompting members of the Liberal caucus to call for more protection than would be provided by a voluntary code of conduct.
The caucus is pushing for government regulation that will give retailers more power to negotiate credit card fees and pick which debit card networks to use. It is also requesting legislation to end double-cycle billing and allow consumers to opt-out of credit card contracts if their interest is raised. Double-cycle billing occurs when interest is calculated on two full cycles of credit card balances, even if the customer has already paid off one of those balances.
The voluntary code, authored by Conservative Finance Minister Jim Flaherty, is an attempt to ease concerns sparked by the entry of Visa and MasterCard into the debit card market. Guidelines are expected to focus on routing, rate and fee disclosures, and the use of "dual purpose cards," which function both as debit and credit cards. According to reports spanning back to mid-October, the code is nearing completion. Yet some Liberal party members fear debit and credit card companies won't "volunteer" to comply.
"Without enforcement, a new code of conduct for debit and credit card companies is not a sufficient response," said Dan McTeague, Liberal consumer affairs critic, in a press release. "We need some concrete, enforceable measures that will deal with the issues of double-cycle billing, little transparency and high fees for merchants."
The Standing Senate Committee on Banking, Trade and Commerce is also considering whether government regulation of the debit and credit is advisable. According to a report released in June, a decision will be issued in December.
Yet proponents of an unregulated market say government intervention may indirectly harm consumers. They cite Australia's increased credit card fees, card benefit reduction and the introduction of surcharging as consequences of interchange fee regulation policy. An interchange fee is the amount a retailer must pay to a credit card processor for accepting the credit card. Surcharging occurs when a consumer is charged an extra fee when they purchase a product.
An April 2008 assessment of interchange regulation by the Reserve Bank of Australia paints a less-than-rosy picture.
"Lower interchange fees in the MasterCard and Visa credit card systems have resulted in a reduction in the value of reward points and higher annual fees, increasing the effective price of credit card transactions facing many consumers," according to the report. "Surcharging has also led to a significant rise in the effective price of some credit card transactions."
Australians pay approximately AU$480 million more in credit card fees each year because of the regulation, according to research by Charles River Associates, a consulting firm. The firm concluded that merchants have profited from government-capped interchange fees, but have not necessarily passed on the savings to consumers.
Yet such staunch regulation isn't likely in Canada -- at least in the meantime. Flaherty is expected to avoid talk of fee and rate caps and instead emphasize more transparent disclosure of fees.
Published November 12, 2009
Most recent Legal, regulatory, privacy Stories