Most travel reward points go unused
It's a fact that Canadians love to travel, but apparently the majority aren't taking advantage of their credit cards' travel rewards programs to help pay for their trips.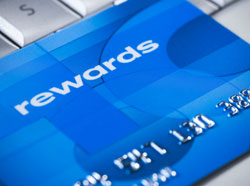 According to travel rewards site Rewards Canada, less than 30 per cent of those who belong to a credit card rewards program have actually booked their travel using their rewards points.
This despite new survey results from pollsters Angus Reid shows that Canadians aren't willing to pay hand-over-fist for luxurious vacations.
Statistics Canada reports that Canadians made almost 4.3 million trips outside of national borders last Christmas season, a nearly 3 per cent increase over previous months. And a recent International Travel Account report for the first quarter of 2010, from the Canadian Tourism Commission, reveals that Canadian spending across the border rose 11 per cent to $4.7 billion. What's more, Canadians spent $8.3 billion aboard - up 5 per cent year-on-year, representing the second-highest total ever for this period.
Not using travel rewards is a lost opportunity to cut travel expenses, according to Elena Jara, education coordinator at Credit Canada, a nonprofit credit counseling organization. "What a lot of people overlook is the importance of keeping track of their travel rewards points when they get their card statements. Some cardholders don't even open their statements because they do a lot of their banking online."
Fortunately, Jara says making the most of your travel rewards points is easier than most Canadians think. Here's how.
Select a card that's right for you
Not all travel rewards cards are created equal. Some programs offer discounts on car rentals while others may push consumers towards hotel and air transit deals. Similarly, some cards allow for fast-and-furious discounts on low-ticket items; others require cardholders to spend months accumulating points. The trick is determining your travel priorities and the amount of time you're willing to wait to redeem your points. "Get the right card for you with regard to points," advises Jara. "Some offer great stuff but it can take a long, long time to accumulate enough points to actually cash them in. A lot of people become discouraged and stop keeping track altogether of how many points they've collected."
Consider switching
If you already have a travel rewards card, but aren't reaping the benefits you'd like, consider switching to another program. Just remember: you may not be permitted to transfer your existing points to a new card so be prepared to forfeit your points. "Call the company to see what's allowed and what happens once you cancel a card," advises Jara.
Plan accordingly
If you're counting on your points to offset a sizable portion of your dream vacation, book ahead. "The big catch is you really have to plan way in advance," says Jara. "The closer to your travel date, the more points you'll use." Better yet, ask yourself how you plan on using your points -- for example, hotel, car rental, airfare -- so that you can save and spend accordingly.
Far too many Canadians let their travel rewards points languish when they could be putting them towards a weekend get-away or winter respite. However, with some careful card selection, and a little forethought, you can make your rewards points work for you rather than work for your rewards.
Published August 27, 2010
Most recent Reward Programs / Cash Back Cards Stories