Are credit monitoring services worth the cost?
Identity theft is a serious, growing problem in Canada. Not only is being an identity fraud victim scary and frustrating, but it can also wreak havoc on your credit file.
According to the Canadian Anti-Fraud Centre, in the first half of 2015, 11,226 Canadians filed identity fraud complaints, and 2,936 filed identity theft complaints, with a combined loss of $6,475,435.81.
But there are ways you can reduce your risk of fraud, either on your own, or with the help of credit monitoring services.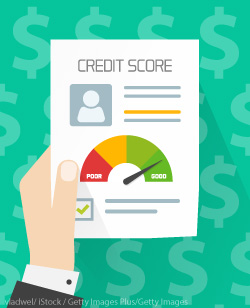 How credit monitoring works
"If you are a regular online shopper, and use many different sites to purchase items, credit monitoring can be helpful to ensure that your identity is protected," Brenda Hiscock, certified financial planner at Objective Financial Partners, said in an emailed response to questions.
Credit monitoring is offered by credit bureaus, banks and credit card issuers. When you sign up for credit monitoring, you're alerted each time your credit report is pulled.
If you suspect fraud, you can take it a step further by setting up a credit file alert. When you set a credit file alert, any application for credit - whether it's a credit card, mortgage or loan - must be verified with you first. This protects you from criminals fraudulently taking out any type of loan in your name.
"For anyone who has experienced identity theft, not only is it inconvenient, it can take a great deal of time and effort to re-establish your original credit status," said Hiscock. "These alerts can provide you with information quickly, before a lot of damage is done."
Credit monitoring is typically offered when you sign up for a new card. The banks market credit monitoring as an added protection against identity theft. The major credit bureaus in Canada, Equifax and TransUnion, also offer credit monitoring when you go online to request a copy of your credit score or credit report for a fee.
How much does credit monitoring cost?
Credit monitoring may offer you peace of mind, but it often comes at a fee. The cost depends on the company you sign up with.
For $16.95 per month, you can sign up for credit monitoring with either Equifax or TransUnion. With Equifax's the Complete Advantage Plan, on top of credit monitoring, you'll also get free access to your credit score and credit report on a quarterly basis. With TransUnion's credit monitoring, your credit report be will monitored, and you'll get unlimited access to your credit report and credit score and you'll receive an email any time a "critical change" (e.g., your home address is updated) is made to your credit file.
"Prior to purchasing credit monitoring, it is important to conduct a cost/benefit analysis to determine if you are at high risk of identity theft," said Hiscock. "Many people with high credit limits value the peace of mind this service provides."
Is credit monitoring ever free?
In a word, yes, and often in the wake of high profile data breaches.
There have been a number of high profile data breaches in recent years. Although most of those data breaches occurred in the U.S., one of those data breaches affected Home Depot Canada. As a result of the breach, Home Depot offered customers a free year of credit monitoring with Equifax for anyone who used a credit card to make purchases at its stores.
A major criticism of credit monitoring services is that it's difficult to cancel once you sign up. In the case of the Home Depot breach, customers were not required to enter their credit card information, and if they chose not to, billing beyond the free year couldn't happen.
"You should also ensure to inquire on which company is providing the service behind the scenes," Seun Adeyemi, senior financial planner at SA Capital, said in an emailed response to questions. Be sure that if you're accepting free credit monitoring, it's with one of the trusted credit bureaus.
Other ways to protect yourself from identity theft
Credit monitoring is one way to protect yourself from identity theft, but there are other, less costly things you can do to better protect your account and personal information.
Sign up for the free mobile banking to keep tabs on your chequing and credit card statements on a daily basis and report any suspicious activity immediately.
If your wallet - or phone containing your mobile wallet - is lost or stolen, contact your bank immediately (most banks have a 24/7 toll-free number for this).
Be cautious when sharing personal information, especially credit card information. Never share credit card information over the phone or email, unless you initiated the contact.
"Whenever you get any mail, regardless of the source, make sure you tear out and shred the portion with your name and address and any other sensitive information before you toss it out," said Adeyemi.
Be proactive and request a free copy of your credit report once a year from the credit bureaus. Not only can you find fraud, you might also spot errors.
"It doesn't take a lot to steal your information anymore," said Adeyemi. "All anyone needs is your full name and address and they can take out loans, apply for services, such as cable, cellphone, etc. in your name."
See related:
Are you being safe with your account info -- or paranoid?
,
Can Canada Credit Fix repair your credit score?
Published November 17, 2016
Most recent Fraud, Identity theft Stories