Smart credit card tips for every season
You have Christmas spending in the winter, vacations to book in the summer and a hefty back-to-school shopping list in the fall. Some of your credit cards collect travel rewards, and some earn you free groceries. Some have purchase protection, and some come with travel insurance.
How do you decide which credit card is best for each season of the year and the expenses that come with it?
"Different things always come up at different times of the year -- season-by-season, month-by-month. It can feel like there's no escape from spending," says Stephanie Petsinis, a Toronto-based debt counsellor with the Credit Counselling Society.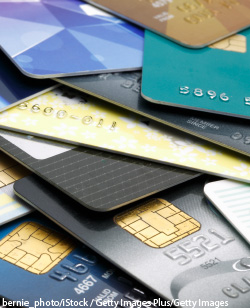 "Some parts of the year are really expensive and hard on families, especially if they're worried about debt," says Rubina Ahmed-Haq, a Toronto-based personal finance expert. "But there are ways to offset that, too."
Here's how Petsinis and Ahmed-Haq approach each season with their clients:
Winter: use up your points
You're dealing with a holiday debt hangover, and you've set money-based resolutions aimed at improving financial matters in the next year.
In December 2015, a CIBC poll found Canadians spent an average of $601 on Christmas expenses. Twenty per cent said they would bust their budget, while another 20 per cent didn't even have a budget.
Winter is the time to reap the rewards you sowed throughout the year to help ease the ding on your wallet while you pay off your post-holiday credit card bills.
Ahmed-Haq relies on PC Financial credit card grocery points to buy her family groceries for most of January. Cashing in her points from the year before saves her about $250.
"You have rewards points racked up, so in January do a detox," she says. "Spend as little as possible, stay at home, be on the down low and save money. Use points whenever possible."
Spring: plan summer spending using points, cards with travel perks
Spring is the time to plan summer vacations and logistics for out-of-town visits.
"If you're going to use travel rewards for trips, you need to start looking at least three months in advance to get a good deal for your points," Petsinis says.
If you're planning a June or July vacation, log onto Aeroplan or Air Miles in springtime to see how many points you have, and how far best to use them. You'll want to know how many points an average flight costs before you cash in any of your rewards.
This applies to hotels, too. Some credit cards offer free stays depending on availability and the destination. You need to book far in advance to save money and points while securing the best spot.
When you book, use a credit card that comes with the most travel coverage. Some cards include free trip insurance and medical insurance, Petsinis says. But the onus is on you to make sure you book with the card with the applicable benefits.
"This move alone could save you a couple hundred dollars," Ahmed-Haq says.
In springtime, you're also likely doing some spring cleaning, and possibly buying new clothing or new household items.
If you have budgeted for and have room to spend on new items, be sure to use a card with perks you'll use, Ahmed-Haq says.
For instance, she once had a credit card that came with Shoppers Optimum points she could redeem at the drugstore on makeup, groceries, household items and even technology.
Summer: use travel cards, rewards cards
Summer spending actually eclipses Christmas expenses, according to Ahmed-Haq.
A 2015 Bank of Montreal poll found Canadians spend $5,605 during the summer. Ahmed-Haq isn't surprised - summer spans four months, while the holidays are only one month.
If in the spring, you booked the plane seats and hotel reservations with credit card points, you're all set. Otherwise, you're paying out of pocket at last minute prices. In that case, use a card that offers low or no interest for a few months, so you can pay off the balance without taking too hard a hit to your wallet.
If you're taking a road trip and guzzling through gas, you should ideally use a credit card that earns you points at gas stations. These cards offer perks such as double points or a few cents off a litre of fuel, depending on where you fill up, Petsinis says.
If you're travelling abroad, you might want a U.S. credit card or a credit card that has no foreign exchange fees.
If you're staying put for the summer, you might still find yourself going out more, now that the weather is nice, or bringing beer and wine to backyard barbecues every weekend. If you're going to ramp up spending, be sure to use a card that'll earn you cash back or other rewards that you can redeem later.
Autumn: use cash back cheques, be wary of store card offers
This is a busy time of year - you're getting your summer credit card statements, you have back-to-school shopping to do, and the holidays are looming.
With tight budgets at year-end, use your cash back credit card for some leeway. Because Petsinis uses her cash back card year-round, she gets a cheque at the end of the year for about $300 to $500. It helps her pay for holiday expenses.
"It's a great way for me to not have to worry about my next credit card payment because I take advantage of the cash back cheque," she says.
Holiday gifts such as electronics should be purchased with credit cards that offer an extended warranty, Petsinis says. Otherwise, she adds, how you do your spending through the year depends on what you need.
If you're shopping for back-to-school goods or the holidays, pick the card that'll get you points you'll use. Certain stores double the incentive during the holidays, but don't let that dictate what you buy, Ahmed-Haq says.
"During this time don't ever shop with reward points in mind, let them reward you," she says. "If you're shopping just for bonus points, you get items you don't really need, and the points aren't worth it."
See related:
The best way to pay on an international vacation
,
4 ways to handle back-to-school shopping -- without credit
,
Start holiday shopping early to save money, avoid debt
,
4 ways to spring clean your finances
Published December 9, 2016
Most recent Credit Account Management Stories