Ensure smoother sailing with travel insurance
Planning a holiday this summer? You're not alone. Many Canadians (about four in five) plan to go on a vacation between May and September and, on average, expect to spend more than $3,000. Almost half the survey respondents in the 2013 BMO Summer Spending Report also say they regularly buy travel insurance for their trips.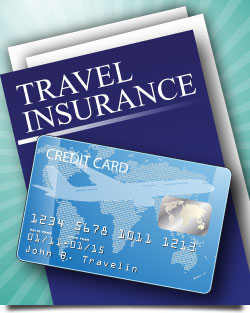 Ironically, a follow-up BMO survey reveals about four in five consumers are looking for saving opportunities over the summer. One way Canadians can tweak their excursion budgets is to evaluate whether their credit card already provides adequate travel coverage. That research could potentially save hundreds or thousands of dollars otherwise spent on a redundant travel insurance policy.
Here are five key concepts to bear in mind when comparing travel insurance plans.
1. Must-have travel insurance benefits
Many travel rewards cards come with a diverse set of insurance benefits such as flight delay, lost or stolen luggage and even hotel room burglary coverage.
John Thain, president of the Travel Health Insurance Association of Canada, says the highest potential financial losses for Canadian travellers generally result from unexpected medical expenses, the cost of repairs to rental vehicles and unrecoverable expenses from cancelled trips.
"While each individual's needs are unique, travel emergency medical, vehicle rental loss damage and trip cancellation insurance have the highest potential value," says Thain.
Allison Wallace, media and communications manager at Flight Centre Canada, recommends out-of-province medical, trip cancellation and trip interruption insurance as the bare minimum protection for Canadian travellers.
2. Tripped up by trip days
Defined in the coverage agreement, the maximum number of days per trip can be an all-or-nothing requirement. For example, Capital One Aspire Cash World MasterCard's emergency travel medical benefit only covers trips lasting up to 22 days for those younger than 65 years of age. Similarly, Desjardins Odyssey Gold Visa allows emergency medical coverage on condition that the cardholder's entire trip is for 48 days or less.
On the other hand, RBC Rewards Visa Preferred and Scotiabank Platinum American Express cards provide medical coverage during the first 31 consecutive days of a trip regardless of how long a vacation lasts. Cardholders can pay for additional emergency travel insurance to cover from day 32 onwards.
3. Pre-existing conditions exclusion
Travel insurance benefits are often unavailable to people with pre-existing medical conditions. Although it depends on the insurer, pre-existing conditions can disqualify an individual who consulted a doctor, was hospitalized or received a change in treatment or medication within three or six months prior to the scheduled departure date.
This exclusion is not unique to card insurance benefits. "While pre-existing conditions clauses typically apply for credit card travel emergency medical insurance, trip cancellation and trip interruption benefits, the same is true for most individual programs as well," explains Thane.
Thane encourages consumers who have doubts about their medical history or don't understand terminology in their travel insurance certificate to check with their doctor and insurance company.
4. Limited coverage elsewhere
Some consumers assume their provincial health care plan automatically reimburses emergency medical costs incurred outside their province of residence. Coverage gaps can result in some expensive lessons learned. The BMO Insurance Summer Travel Study's press release mentions that decompression sickness treatment in Thailand can cost up to US$40,000 while a broken leg in the United States can result in US$20,000 worth of medical bills.
"It is best to assume that provincial health plans will provide very limited coverage while you are travelling outside of Canada," says Thane. To clarify whether or not travel-related medical expenses are eligible, consumers can visit provincial health plan websites like the portals for Ontario and Manitoba residents.
"Another thing to keep in mind is to double-check travel warnings," adds Flight Centre's Wallace. "If you're going to a destination with a travel warning in place, your insurance may not cover you or be quite restricted."
5. Do credit card insurance benefits deliver value?
How much might it cost to purchase travel insurance policies if you don't have a credit card that covers it?
Key variables determining travel insurance premiums are trip cost, duration and the traveller's age, commented Travelzoo insurance expert Michael Duchesne during Gail Vaz-Oxlade's June 3 Late Shift radio show.
Duchesne estimated travel insurance premiums cost between 5 and 12 per cent of a trip's total cost.
We got test quotes from various providers and found that Travel Guard's Deluxe All Inclusive Package for one 30-day trip from Ontario to Texas, including auto rental insurance, requires a $1,145 premium for a family of four. The quote assumes that the oldest traveller is age 57, and that total trip costs are $4,000.
In comparison, we reviewed eight travel rewards cards that provide free insurance. All include emergency medical, vehicle rental, trip cancellation and trip interruption insurance, plus additional travel benefits. Given that the annual card fees range from zero for the Capital One Aspire Cash World MasterCard up to $399 for the Scotiabank Platinum American Express card, these credit card travel insurance packages appear to offer compelling savings.
Also consider that most card travel insurance benefits automatically cover multiple trips per year. Even if consumers have to buy travel insurance, Wallace recommends an annual insurance plan rather than individual trip policies; people who travel more than twice a year save more that way.
Each of the eight reviewed cards also come with built-in family coverage with card medical insurance benefits. Granted, child age limits vary from 18 (or 24 for students) under the Desjardins Odyssey Gold Visa to 21 (or 26 for students) under the BMO World Elite MasterCard.
Final words of wisdom
All credit card insurance advantages are nullified if the cardholder, family member or the trip itself fails to satisfy card program requirements.
"Read and understand your certificate, paying special attention to the eligibility requirements, benefit limits and limitations and exclusions," advises Thane.
"If there is anything you don't understand, contact the insurance company at the toll-free telephone number provided in the certificate before you travel."
Top Canadian credit cards with travel insurance benefits
Card
Annual fee
Max trip
Accident
Flight delay
Luggage
Hotel burglary
National Bank Platinum MasterCard
$125
60 days
Y
Y
Desjardins Odyssey
Gold Visa
$110
48 days
Y
Y
RBC Rewards
Visa Preferred
$110
31 days
Y
Y
Y
BMO World Elite MasterCard
$150
31 days
Y
Y
Y
Y
Scotiabank Platinum American Express
$399
31 days
Y
Y
Y
Y
Scotiabank Gold
American Express
$99
25 days
Y
Y
Y
Y
Capital One Aspire Cash World MasterCard
$0
22 days
Y
Y
Y
ScotiaGold Passport
VISA card
$110
Normal
Y
Y
See related: Credit card safety 101: Travelling with plastic; Credit card travel insurance: Is it enough?
Updated April 28, 2016
Most recent All credit card news Stories