Credit union vs. bank credit cards
Local credit unions offer many advantages over large banks, but credit cards might not necessarily be one of them. Compared side-by-side, the pros and cons of bank-issued credit cards and credit union credit cards are about even.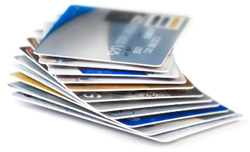 There are compelling reasons why 10.2 million consumers pay $25 to $30 for the ownership shares required for joining one of Canada's 771 credit unions and equivalent caisses populaires.
Research sponsored by the credit union industry found that members cherish a credit union's "human touch" as demonstrated by community involvement, charitable contributions, friendly staff and commitment to excellent customer service.
Compared to bank customers, credit union members also purchase a wider variety of financial products and services with one notable exception; Ipsos' results show that credit union credit cards are not as well-received.
Toronto Star columnist Robb Engen has researched advantages credit unions offer Canadians, including cheaper banking fees and superior savings account interest. Yet when we spoke to him about credit cards, the Calgary-based writer was less enthusiastic about credit union offerings. "I don't see any advantage to using a credit union credit card," he said.
We performed our own analysis and found six factors consumers should carefully consider before opting for a credit union card.
1. Geographical availability Because credit unions are provincially regulated,, a Canadian consumer can only choose among cards issued by credit unions that operate exclusively in their home province. The Department of Finance is studying the feasibility of allowing federally mandated credit unions, but for now the restrictions stand.
Location-based constraints do not apply to the extensive card offerings from Canadian banks and credit card companies.
2. APR
Using the Financial Consumer Agency of Canada's card selector tool, the average annual interest rate for the 46 credit union cards we found was 15.2 per cent. This is significantly lower than the average APR of 18.8 per cent for 69 bank-issued credit cards. Six cards from Coast Capital Savings, Prospera and Westminster Savings credit unions had APRs as low as 9.9 per cent.
However, we uncovered other cards elsewhere with even lower rates. For example, TD Canada Trust's Emerald Visa card has an APR equal to the bank's prime plus 1.5 per cent -- or about 5 per cent. Granted, the Emerald product is reserved for applicants with stellar credit scores.
"For a low interest rate card, I'd go with Capital One's SmartLine MasterCard, which charges 5.99 per cent [for the first three years]," says Robb Engen. "A balance transfer credit card, like MBNA's Platinum Plus, can get you 0 per cent interest for 12 months."
Annual fees (primary card only)
Credit union cards
Bank cards
Avg: $76.39 (among 36 cards that charge
an annual fee)
Hi: $169
Lo: $12
Avg: $92.56 (among 45 cards that charge
an annual fee)
Hi: $399
Lo: $19
10 out of 46 cards (21.7%) had no annual fee

24 out of 69 cards (34.8%) had no annual fee
Annual interest rate
Credit union cards
Bank cards
Purchase
Avg: 15.21%
Hi: 19.9%
Lo: 9.9%
Purchase
Avg: 18.79%
Hi: 20.5%
Lo: 11.9%
Cash advance
Avg: 15.34%
Hi: 19.9%
Lo: 9.9%
Cash advance
Avg: 20.1%
Hi: 22.5%
Lo: 11.9%
Balance transfer
Avg: 14.46%
Hi: 19.9%
Lo: 9.9%
Balance transfer
Avg: 20.1%
Hi: 22.5%
Lo: 11.9%
3. Reward choices
None of the 46 credit union cards provide gift card or gas rewards, while only Prospera's Low-Interest Rate Travel Gold Visa Desjardins includes grocery rewards. In contrast, six BMO credit cards recognize grocery incentives and 13 bank cards offer gift cards, while the CIBC Petro-Points MasterCard specializes in gas rewards.
Engen acknowledges that Canada's dominant credit union MasterCard issuer, CUETS Financial, makes available a decent set of credit union rewards cards. Engen nevertheless prefers higher return cash-back cards such as the Scotia Momentum Visa Infinite and no-fee Capital One Aspire Cash World MasterCard. Ironically, TD Bank owns CUETS Financial and its credit union card portfolio.
4. Extra benefits
The 46 credit union cards feature a wide range of travel insurance benefits and other perks such as purchase protection, price guarantees and extended warranties. Then again, so do many of the 69 bank-issued credit cards. One difference is that the roadside assistance benefit is optional on 10 bank-issued cards, but only the North Shore Credit Union CUETS Gold MasterCard comes with roadside help.
5. Penalties and fees
Credit union cards do appear to require fewer extra charges than other credit cards. Among the 46 credit union products, 28 had no cash advance fees nor any over-the-limit penalties. All 69 of the bank-issued cards levy cash advance fees up to $10 and over-the-limit penalties ranging from $25 to $29. For the 18 credit union cards that do impose over-the-limit penalties, seven charge $10 per infraction.
David McVay, principal of McVay and Associates, a firm that specializes in Canadian banking and credit union market intelligence, advises that readers shouldn't assume that all credit union card charges are less costly. McVay notes, "There is quite a range of pricing policies across credit unions, and most are quite similar to banks."
Over the limit fees
Credit union cards
Bank cards
Avg: $19.17 (among 18 cards charging OTL fee)
Hi: $25
Lo: $10
Avg: $26.68 (all 69 cards charge OTL fee)
Hi: $29
Lo: $25
28 out of 46 cards (60.9%) charge no OTL fee

None that don't charge OTL fee
6. Special promotions
McVay also says big Canadian banks are more aggressive than credit unions in credit card innovation, advertising and promotions. "Most credit unions see credit cards as service to their clients as they do not have the scale to compete otherwise," explains McVay.
Keeping in perspective the relative size of card-issuing financial institutions is important. The top 100 Canadian credit unions outside Quebec had 4.5 million members serviced at 1,309 locations, according to Credit Union Central of Canada's March 2013 System Results report. TD Canada Trust alone has 12 million customers and 1,100 branches across Canada, based on information from the bank's website.
Is it worth signing up for a credit union card?
Credit unions have been successful in leveraging customer satisfaction and a community-orientation to differentiate themselves from larger financial institutions. McVay acknowledges, "I believe credit unions are an attractive alternative to banks offering better service and a more local focus."
Still, consumers often separate the decision to select a credit card from where they choose to do their local banking, giving a higher priority to individual card features.
As Engen sums up, "I'd prefer to find the best credit card product for my needs."
Published May 7, 2013
Most recent All credit card news Stories