Dealing with deceptive credit card advertisements
Canadians despise untruthful and manipulative financial advertising. Complaints range from allegations of outright deception to obfuscation -- like a 2013 case in which authorities found a financial service provider used illegible font for text shown in its TV commercials. But many of us figure, "Oh well, what can I do about it?" The answer: more than you think. There are a couple of organizations you can contact to report deceptive ads.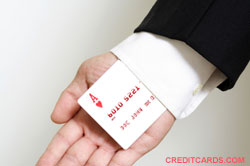 Respondents to the 2013 Advertising Standards Council survey overwhelmingly pointed to inaccurate or misleading claims as the number one advertising ploy that is bothersome or personally offensive -- far ahead of other factors like sexual themes or stereotyping.
Advertising regulators
The Competition Bureau is the go-to agency responsible for enforcing the federal Competition Act. Provisions under that law prohibit false or misleading representations and deceptive marketing practices.
However, the Competition Bureau is not a consumer protection agency and cannot resolve individual disputes between a consumer and an advertising party. For those, senior communications advisor Alexa Keating encourages complainants to contact their provincial consumer affairs ministry -- especially if a potentially reimbursable loss is involved -- or their local Better Business Bureau.
The Financial Consumer Agency of Canada (FCAC) can play a regulatory role on the consumer side of disputes when federally regulated financial institutions break advertising laws, voluntary codes or public commitments. An example is when advertisers fail to disclose credit card APRs and fees as required under the Bank Act, says FCAC media relations officer Natasha Nystrom.
Complainants may also approach the self-regulatory Advertising Standards Canada (ASC). The nonprofit watchdog administers Canadian Code of Advertising Standards criteria for acceptable advertising and consumer complaint adjudication. ASC will ask media organizations, advertisers and advertising agencies to change or withdraw any ads found to contravene its code.
What to watch out for
An insider marketing joke is "Never let the truth get in the way of a sale." But when it comes to ad content, attorney Steve Szentesi says it's a serious problem if an advertising claim is either false or misleading.
Below are the top five indicators of potentially deceptive advertising.
1. Fuzzy disclaimers. Szentesi has no problem with qualifying statements in general, provided they appear in close proximity to an ad's main claim and do not contradict it. Best practices also dictate that disclaimers use readable fonts and plain language that consumers can readily understand. But there are no Canadian laws that specify the minimum font size for advertising disclaimer wordings.
Janet Feasby, ASC standards vice-president, notes her organization's compliance council recently adjudicated four or five complaints about advertising for a variety of products and services where the disclaimer language was either illegible or missing.
"If the disclaimer is important enough to mention, it is there for a reason and important enough to make the font big enough such that consumers don't overlook it," she says.
2. Lack of immediate disclosure. Szentesi says a critical question that enforcement agencies, the courts and plaintiffs look at is: "Does the advertising provide consumers with the key conditions and limitations upfront before they make a buying decision?"
In one case, the ASC complaints committee decided against a financial institution for failing to mention an annual fee in its direct-mail promotion for a credit card. That charge was only disclosed on the advertiser's website.
"Courts ask, 'What do consumers see during the first 30 seconds they view the advertised representations?'" explains Szentesi.
3. False general impressions. Even though every statement in an advertisement is literally true, an offence can still arise if the general impression conveyed is false or misleading.
Consumer advocate and columnist Ellen Roseman often hears from readers concerning retail staff aggressively promoting store credit cards.
"The customer doesn't always know the offer involves a credit card, but instead believes it's a retail loyalty card," says Roseman. "They may sign up to get a purchase discount and later have trouble cancelling the credit card without incurring fees."
Promotions that create misleading impressions can provide grounds for a complaint, according to Feasby, who adds that the ASC code focuses on advertising content including the written materials that accompany an offer.
4. Confusing price plans. Misleading pricing representations are a key concern, according to a 2010 ruling announcement by the Competition Bureau. In that case, the Bureau found that a retailer had enticed customers with a $10 savings card awarded after they bought the movie Avatar on DVD or Blu-Ray. However, cardholders had to make a minimum $50 purchase to redeem the $10 in savings -- a condition omitted from advertising materials and only disclosed after consumers bought the movie.
In a 2011 decision also involving misleading pricing, FCAC Commissioner Ursula Menke imposed a $150,000 administrative penalty on a bank because its advertisements failed to clearly disclose all charges required for a financing plan offered via credit card.
5. Exaggerated performance claims. Szentesi says inaccurate statements about product performance or service offerings are generally easier to prove. Consider an ad for a rewards credit card highlighting a 5 per cent return. That claim is questionable if the ad content doesn't specify that maximum return only applies to specific types of purchases at certain retailers while the overall reward percentage for most charges is only 2 per cent.
Particularly for performance representations found in more complex advertisements, Feasby encourages consumers to look for all facts pertinent to an advertised offer.
"And if those details are not there," he says, "ask about them before making any decision to purchase or sign up."
See related:
Beware 'buy now, pay later' ads
;
Senate scandal: Credit cards are smoking guns
Updated December 30, 2013
Most recent All credit card news Stories