Debit versus credit: what you need to know
As a personal finance tool, debit cards - which pull money almost immediately from your chequing account - can be useful in helping you to not spend more than you have. Credit cards, however, offer rewards, insurance and other consumer protections that debit cannot match.
Here's what you need to know about credit and debit cards:
Debit advantages
Debit cards are accepted nearly everywhere, and they're easy to use. You can still have the convenience of not carrying cash, while not dealing with some of the pitfalls of credit, such as carrying high-interest balances or living outside your means. You can even use certain debit cards outside of Canada and via mobile wallet.
If you struggle to control your spending, you may be better off with a debit card. That's because with a debit card the money is immediately taken out of your bank account, making it easier to keep track of your spending. Additionally, there are daily limits on cash withdrawals via debit.
"If you're accustomed to living by a monthly budget and sticking to it as closely as possible, credit cards are not for you," Seun Adeyemi, senior financial planner at SA Capital, said in an emailed response to questions. "Using credit cards will only exacerbate your spending problem."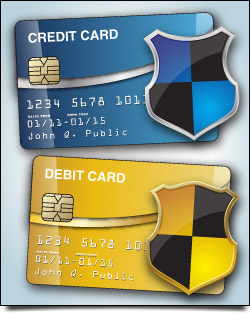 Credit advantages
Credit cards tend to offer more generous rewards than debit cards. There are cash back, rewards points and travel rewards credit cards, to name a few. Additionally, many credit card offers higher rewards on everyday spending, such as groceries and gas.
And if you're new credit - maybe you're a young adult or new to Canada - credit cards offer the best way to build your credit score. By signing up for a secured credit card (where you make a deposit), you can build your credit until you qualify for a regular credit card.
The biggest advantage credit has over debit, however, is fraud and consumer protection.
For instance, if you make a major purchase on credit, such as a smartphone or stereo, and it stops working, you may be protected with purchase insurance by your credit card.
"Some might even offer extended warranty on purchases," said Adeyemi. Many credit cards offer travel and rental car insurance as well.
Credit, debit card liability
When fraudsters capture debit information, they can start siphoning money from your bank balance and any linked accounts. Restoring those stolen funds can be a long and painful process. It could take a while to restore the funds to your chequing account, causing you to miss due dates for other bills.
One of the trickiest aspects of debit card security involves the maximum a criminal can steal. The general perception is that losses are constrained by the daily withdrawal limit that the bank sets for your debit account.
But debit users may be in for an unpleasant surprise when they find out actual total stolen amounts. The Canadian Code of Practice for Consumer Debit Card Services specifies that "cardholder losses can exceed the actual balance in an account with a line of credit or overdraft protection, or that is linked with another account(s)."
Credit card fraud is regulated by law, and maximum liability is $50, with many credit card issuers offering zero liability. However, debit card fraud rules fall under voluntary guidelines, namely the aforementioned code.
Section 5 of the code, "Liability for loss," states that debit cardholders are not liable for losses resulting from "circumstances beyond their control." That section also says you are not responsible after you've reported that the card was lost or stolen or that the PIN may be known to someone besides you.
While voluntary, the FCAC monitors compliance with the code and other public commitments made by federally regulated financial entities. Compliance is reported to Parliament annually, according to Elena Simonova, principal of research and policy at CGA-Canada.
Simonova concedes that the scope of the debit guidelines is limited.
"The code does not cover transactions that take place outside Canada or that transfer funds into or out of Canada," she says. Online or telephone transactions are likewise outside of the code's scope.
Maura Drew-Lytle, spokesperson for the Canadian Bankers Association, says banks look at reports of debit card fraud on a case-by-case basis and that the timing of the cardholder's suspicious-activity report is only one condition in the code used to determine the validity of a case.
Banks are always electronically monitoring transactions, she says.
"So if you lost your card and didn't realize it right away, or if you're someone who doesn't use it very often and all of a sudden there's quite a few transactions, then the bank might put a block on your card anyway and try to get hold of you to see if those are transactions that you made," Drew-Lytle says.
Be proactive to cut fraud risk
Simonova says consumer due diligence plays an important role in safeguarding against the risk of both debit and credit card fraud.
Simonova suggests these tips to help protect consumers from card fraud:
Keep your card numbers and PIN confidential at all times and never give either out over the phone, Internet or by mail.
Use your hand or body to shield the keypad when entering your PIN during a transaction.
Check your account statements and your credit report regularly to make sure there are no unusual transactions. You can obtain a free credit report once a year from the credit bureaus.
Contact your bank right away if your wallet is lost of stolen. The same goes for your smartphone (containing a mobile wallet) when it goes missing. Most banks have a 24-hour number for this.
Shred any documents, including mail, that may contain personal information, such as your full name, address, SIN or card numbers.
Whether you choose to use debit or credit for your day-to-day purchases is really down to how you spend. Credit provides more protections and more rewards opportunities, but if you have spending problems, debit might be the better choice for you, at least for now. And debit cards do come with some protections. A select few even offer rewards. No matter which you choose, though, be sure and do so wisely to prevent becoming a fraud victim.
Additional reporting by Daniel Workman and Leah Kellar
See related: Getting started with plastic: debit, secured and prepaid cards, Choosing a debit card for every life stage
Updated December 19, 2016
Most recent Prepaid / Secure / Debit Cards Stories