How to tell a good debt adviser from a bad one
As Canadians struggle to get a better grip on their debt, debt advisers are cropping up everywhere, promising to help you better manage your finances, often for a fee. Some can help you put your life back together. After all, household debt in Canada reached a record $1.41-trillion in December, according to a report by the Certified General Accountants Association of Canada. That amounts to a staggering $41,740 in outstanding debt per Canadian. Ouch.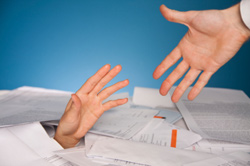 Unfortunately, some so-called debt settlement agencies are nothing more than ill-intentioned opportunists. How can you tell the difference? Patricia White, executive director of Credit Counselling Canada in Toronto offers this advice for finding a reputable helping hand in the face of "increasing amounts of indebtedness."
CreditCards.com: How can you make sure that the debt agency of your choosing is a legitimate operation?
Patricia White: I always caution people to use good consumer skills and ask lots of questions. Is the organization licensed, is it a registered charity, are the counsellors certified, what are the costs involved, what are all the options available.
CreditCards.com: What are the potential risks of working with a credit or debt counseling agency?
White: Risks of working with a debt adviser who isn`t licensed or certified include high fees and not delivering what they promised. Tell-tale signs of a less-than-legitimate organization might be having to sign a complicated contract that you don`t understand, pressure to sign up immediately, and having to pay a large fee upfront before you receive any services.
CreditCards.com: What are the perks of working with a reputable agency?
White: Reputable organizations give you lots of time to consider all your options. They explain everything in detail until you understand completely. They don`t charge large fees, and will even waive fees if you can`t afford to pay, as well as offer money management education to name just a few things.
CreditCards.com: Is there a rule of thumb Canadians should keep in mind when seeking debt assistance?
White: There are different types of agencies and businesses that offer assistance and you certainly want to understand how they can help you. Look at all the options before making a decision. As always, if it seems too good to be true, it probably is. People don't get into debt overnight so they aren`t going to get out of debt overnight either.
See related: Canadians' debt doubles in a decade, Drowning in debt? How to tell
Published January 13, 2011
Most recent Balance Transfer / Debt Consolidation Stories