Debt deception rampant among couples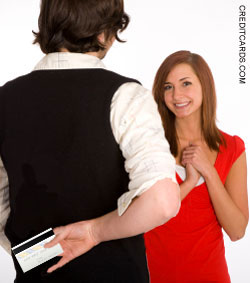 In a recent survey, deception is rampant in Canadian couples, but money is the issue, not infidelity.
The more committed the relationship, the more likely a partner will own up to an expenditure. Not surprisingly, couples in the most casual of living arrangements are least likely to own up to spending habits.
According to findings from a Torque Customer Strategy survey conducted on behalf of Credit Canada and Capital One Canada as part of the national financial literacy initiative, Credit Education Week 2009, Canadian couples are intentionally deceiving their partners about money and spending habits.Deception can easily be achieved through the use of secret credit cards.
There is little margin in the results between men and women. In the survey, 19 per cent of men and 22 per cent of women admitted to hiding debt from their spouses.
Thirty-one per cent of women have deceived their spouses over how much money they have spent on a purchase, while 27 per cent of men say they have lied about a purchase.
A partner is 55 per cent more likely to hide a debt from a spouse if he or she does not control the household money, leaving the one handling the purse strings to walk around with blinders on.
Couples who have a solid commitment seem to be least likely to hide debt. Only 19 per cent of married couples admitted to hiding debt, while 25 per cent of common-law couples admitted to it. Thirty-five per cent of couples living together but not married admitted that they have lied to their partners about how much money they have spent.
Sixty-six per cent of these couples entered their relationship openly disclosing their finances. However, this leaves a large number of spouses who are going to be in for a big surprise a few years down the road.
The main results of the survey indicate that people in relationships are hiding large expenditures from each other, as well as disguising the resultant debt load.
Full disclosure of finances is the key to success in a relationship. Without it, it's no wonder that many relationships are headed down the drain after the money has seeped through.
Written by Melanie Dixon.
Published November 13, 2009
Most recent Credit Account Management Stories