Do you need a financial therapist?
Financial therapy can help you confront the psychological issues driving your financial decisions, curb harmful habits and learn how to communicate effectively about money. However, this emerging branch of therapy in itself is not enough to make lasting changes to your financial health -- you must be able to take the advice, make a plan and follow through with needed changes.
Financial therapy spans a diverse range of disciplines. Although there is no formal accreditation, most practitioners are licensed marriage and family therapists, professional counselors, psychologists, psychotherapists, social workers or money coaches.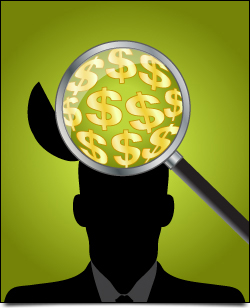 The fledgling Financial Therapy Association (FTA) has more than 300 members. Though most of them are in the U.S., some provide remote-access advice, and there is at least one Canadian member. An independent provider, Loose Change Financial Therapy, gives train-the-trainer workshops and individual sessions in the Toronto area. (See table for a partial list of providers offering service in Canada).
Financial planners are not financial therapists -- but may work with them
Tina Tehranchian, a Certified Financial Planner Professional and branch manager for Assante Capital Management Ltd., says knowing her clients in depth is the cornerstone of her success. Nevertheless, she acknowledges that financial planners are not formally trained to deal with deep-seated emotions and destructive behaviours.
This presents a Catch-22 for many financial planners, who often can only deliver comprehensive services when there are no emotional blocks preventing clients from following the planner's advice.
Shellee Henson, licensed marriage and family therapist for Financial Therapy Associates of Dallas, says she works in tandem with money managers. "If a client comes to our team for financial planning services, the planner and I participate in the initial meeting and often in all subsequent appointments," says Henson. It also works the other way around. When she has a therapy client whose finances are an issue, Henson will bring in a financial planner to participate in those sessions.
"Just as a financial planner would not (and should not) try to be a therapist when a couple is fighting about money, a financial therapist would not want to give investment advice," adds Jennifer Dunkle, a Colorado-based therapist at New Awareness Financial Therapy. She also refers clients with money-related needs to a reputable financial adviser as part of her therapy services.
Ideally, a professional educated in both financial planning and therapy could deal with all aspects involved in personal money management. However, Henson says there are few -- if any -- formal programs that cross-train practitioners.
Who can benefit from financial therapy?
You do not have to be living paycheque to paycheque to consider financial therapy, though such a lifestyle is certainly a red flag that you need help. People of any marital or financial status may be ideal candidates.
Henson says many people start the therapy process embarrassed or ashamed about past financial failures. She focuses instead on their successes, giving clients renewed confidence for reaching future objectives.
Dunkle says her organization advises individuals concerned about how money subconsciously impacts self-esteem and intertwines with people's ability to achieve goals.
Both Henson and Dunkle work with couples, too, to clarify their financial values and priorities, blending each partner's money management style into a plan that represents both of them. "It can be very powerful to have a neutral third party in the room, helping each person understand themselves and their partner better," says Dunkle.
Financial therapists also guide clients through sudden money transitions, such as coping with a divorce or losing a job.
Even people who have a lot of money may have issues that need to be addressed. Despite having inherited millions of dollars or winning a lottery, some nouveau riche obsess over every penny. One example is the "bag-lady" syndrome in which patients become anxiety-ridden about squandering their fortunes. Usually, certain traumas or other events have caused them to have dysfunctional relationships with money.
Finally, people trapped in a debt spiral can often benefit from financial therapy. Money scramblers may fall into a repeat pattern if they don't address underlying emotions. They may temporarily stop negative financial habits only to start running up unsustainable debt all over again.
Not a one-size-fits-all answer
Financial therapy doesn't necessarily trump other solutions for serious money-related problems. Personal finance expert Gail Vaz-Oxlade, well-known for giving sobering wakeup calls on reality TV shows like Til Debt Do Us Part and Money Moron, says that only a small percentage of consumers require financial therapy or psychological treatment. "Most people need a plan, some self-control and goals," asserts Vaz-Oxlade.
Tehranchian has found that personal education can be a powerful antidote for ongoing financial challenges. She says, "Learning about compound interest, dollar cost averaging, budgeting, starting savings early and having realistic goals are all big motivators and eye-openers for a lot of people which can definitely help."
Toronto-based psychotherapist Rhonda Katz points out that low-income individuals burdened with money-related psychological problems may not be able to afford a financial therapist. For those people, she recommends seeking out a non-profit credit counselor or a sympathetic accountant, working through self-help books or researching online resources to help cope with emotional challenges related to money.
Still, a key advantage of financial therapy is that many therapists are skilled in asking penetrating questions, delving into emotionally-charged root causes that people might hide from other professionals or avoid altogether if left to deal with on their own.
Henson says that sometimes her probing queries prompt clients to realize that the goal they're trying to reach is disconnected with what they really want.
"With financial therapy, people can figure out the path that's right for them. As a therapist, my successes often come as 'aha!' moments for the clients, which open up new possibilities for them."
Financial therapy providers

Organization

Services

Location

Ascot Wealth Advisory
Life coaching, cognitive psychology

Nobleton, Ont.

Financial Therapy Associates of Dallas

Financial planning and therapy
Remote access

Loose Change Financial Therapy

Financial counseling and therapy

Toronto, Ont.

Mind Over Money

Money coaching, lifestyle organizing

Moncton, N.B.

Money, Mind and Meaning

Financial psychology

Winnipeg, Man.

New Awareness Financial Therapy

Behavioural therapy and money communications

Remote access

Solutions of Life
Behavioural therapy and money coaching

Remote access

See related: How to find a good credit counselling agency; How employers can help boost money management skills
Updated September 5, 2014
Most recent All credit card news Stories