Drowning in debt? How to tell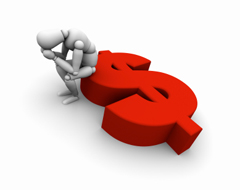 If these debt indicator questions describe your financial situation, then you should seriously consider seeking help in the form of debt counselling. How much debt is too much? Sometimes it is difficult to admit that your situation is out of control. Reg Sherren, in his CBC article
Advice on How to Beat Debt
, says that if your income and expenditures aren't balancing, you may be slowly sliding deeper into debt.
If the following debt questions describe your financial situation, then you should seriously consider seeking help in the form of debt counselling.
Are you spending above and beyond the limit on your credit cards and incurring over-limit fees?
Is a large percentage of your monthly income used to pay down debt?
Have you sold assets for less than they are worth to make debt payments?
Are your debts growing every month because you are only making minimum payments and relying heavily on overdraft protection?
Has your credit rating dropped to a poor credit risk level?
Are you avoiding talking to creditors when they call or write to you?
Do you have trouble paying your utility bills or are you spending your savings on the necessities of life?
Have you used credit cards to pay off other debts?
Do you resist talking about money with relatives and family members?
Does this sound like you? If so, maybe it's time to do something about your debt load. The pressure of debts you cannot afford can affect your health and ruin families.
"Too many people's lives are controlled by debt, but it doesn't have to be that way," writes financial journalist Alison Griffiths. "Something as simple as tracking expenses can save you thousands of dollars and put you on the road to managing debt."
The sooner you develop a budget strategy to tackle your debt, the better off you will be. Depending on your situation, you may benefit from the advice of financial experts at the nonprofit Consolidated Credit Counselling Services of Canada. Or if you are thinking of declaring insolvency or bankruptcy, you can locate a trustee in your area at BankruptcyCanada.com.
The longer you wait to take action, the worse things will get.
Written by Christopher Ibotrain.

Updated August 13, 2009
Most recent Balance Transfer / Debt Consolidation Stories