Credit union debuts live tellers via video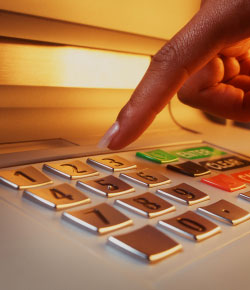 Forget about waiting in line to talk face-to-face with a friendly bank teller. Customers of FirstOntario Credit Union need only tap on a video screen on their ATM to do much of their personal banking with a living, breathing bank employee.
That's because, for the first time in Canada, FirstOntario Credit Union (FCU) launched the Personal Assisted Teller (PAT) that connects tellers with its customers via video while they do their banking.
PAT relies on live streaming technology to connect an on-screen teller with customers as they deposit cash, withdrawal funds, cash cheques, pay bills and more, at their local ATM. Tellers are located in FCU's Hamilton headquarters. Using PAT is simple: a customer simply touches the video screen to begin. A live teller guides the customer through the rest. PAT is also as secure as using an ATM or going directly into the branch to meet with a teller.
"PAT can do really anything that a teller can - they're practically equal," says Dave Schurman, the FCU's chief operating officer. "Except PAT allows us to extend our hours for tele-transactions."
The first PAT is located at the Centre on Barton Mall Branch in Hamilton. Additional PATs will also be deployed at three future FirstOntario Branches located in downtown Hamilton, Hamilton Mountain and Burlington. FirstOntario is also looking at strategic partnerships to launch PAT in remote locations separate from any branches of the credit union.
"The main advantage of PAT is the time and convenience for customers," says Schurman. "If there's a line-up, you can use the PAT machine and talk to somebody rather than just do your transaction through an ATM and not have any interaction."
And while PAT's high-tech functionality might appeal to today's Facebook-addled, BlackBerry-obsessed youth, Schurman says that the FCU's senior customers also have something to gain from the next-generation system.
"For a senior at an ATM machine, it can be intimidating," says Schurman. "But by having a live teller through PAT, a smiling face calling you by name, looking at you and conducting a two-way conversation, it takes the pressure off of senior customers that they might not be doing something right."
Published July 26, 2010
Most recent Product Features Stories