Feeling trapped by extreme debt?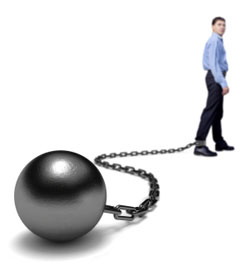 Bankruptcy is down in Canada, according to a recent report by the Office of the Superintendent of Bankruptcy. But the number of consumers filing for consumer proposals (where just a portion of a consumer's debt is repaid) is up, notes Bankruptcy Canada -- indicating that many Canadians are still in significant pain.
However, there's hope for even the most extreme cases, say experts. If you're one of many Canadians feeling crushed by extra heavy debt loads, take heart: There are multiple steps you can take to eventually clear your debt and repair your credit score.
Here are CreditCards.com's picks for some of our best tip-heavy articles on how to dig yourself out of extreme debt:
Published April 8, 2011
Most recent Bad Credit / Credit Repair Stories