How to fight credit card inactivity fees
It seems your credit card racks up fees on just about everything: you pay interest on your outstanding balance, you get dinged by foreign exchange fees when you do cross-border shopping or you pay for something online and get charged a convenience fee. While stashing your credit card away might sound like a good move, that too could lead to a fee. Most credit card issuers charge an inactivity fee of about $10 if you abstain from swiping for one year.
"Credit card issuers aren't in the business for charity -- they want to make money on the products they sell and credit cards are a booming business when you swipe," says Jeff Schwartz, executive director of Consolidated Credit Counselling Services of Canada.
Across the board, major Canadian banks tack on "inactivity" or "dormant" account fees if you haven't used your credit card for 12 consecutive billing periods. For the Bank of Montreal, CIBC and Scotiabank, the fee is $10.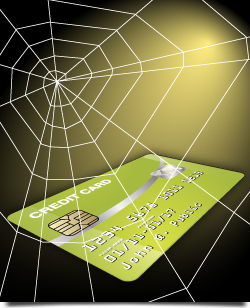 The Financial Consumer Agency of Canada (FCAC) says that it handled 81 complaints in the 2014-15 fiscal year. While inactivity fees only made up a handful of the complaints, they're still a nuisance to consumers. An informal poll conducted by Canada.CreditCards.Com on consumer savings website RedFlagDeals found that inactive account fees were the second most annoying credit card fee for Canadians.
Fighting the charge
The inactivity fee is listed in your terms and conditions, so it may
seem like you don't have much wiggle room. But you have leeway in getting the fee waived -- if you're willing to use the card.
Schwartz says the $10 fee, if anything, is a gentle reminder or a
nudge that your card is at your disposal. Call your credit card issuer and explain why you haven't used your card, but show interest in utilizing the account much more this year, says Richard Moxley,
author of The Nine Rules of Credit and spokesman for eCredit Fix, which helps consumers learn about improving their credit score.
"If you say you'll use it, they'll reverse the fee," Moxley says. "They're not interested in the $10 because it's much more money for them if you're just using the credit."
Your ties to the bank and your history with making payments on time are also factors.
FCAC spokesperson Natasha Nystrom suggested in her emailed response to questions to start at the local level to fight the charge. She described the levels of progression if you can't get the charge reversed:
Step 1: Local level
First, you should try to resolve the problem directly with the manager or customer service representative of your financial institution. This would involve dealing with branch staff or the branch's local representative. Keep in mind, credit card companies, such as Visa and MasterCard, don't issue cards, set limits or charge fees; that's all managed by the issuing banks.
Step 2: Senior level or internal ombudsman
If your complaint cannot be resolved at the branch level, ask to speak to a senior manager or the issuer's ombudsman. They should weigh both sides and try to come up with a fair resolution.
Step 3: Third-party review
If your complaint still has not been resolved to your satisfaction, you can have it reviewed by a third party or an external complaints body, such as the FCAC.
If the inactivity fee is new and isn't listed on your terms and conditions, your credit card issuer has to provide you with written notice 30 days before the change takes effect.
To keep or not to keep the card
Regardless of the $10 fee, you may be mulling over keeping the credit card, especially if it went untouched for a year. Keep in mind, however, that to maintain a good credit rating, your total card balances shouldn't exceed 30 per cent of your available credit across all your cards. If closing this account lowers your total credit limit enough to push you past that, it's better to whittle away at your credit card debt before cancelling the card. Also consider whether you have an outstanding balance on the card or not.
Moxley says that you should have at least two other credit accounts (credit cards or lines of credit) that are at least two years old.
"These accounts (in good standing) will prop up your credit score and keep your credit history narrative strong," he says. Your closed account, including its usage and payment history, will stick around on your credit report for seven years.
Finally, if you might be applying for a mortgage or financing over the next calendar year, you might want to hold off on cancelling the card, Moxley says.
Keep in mind that your bank may simply cancel your account if you don't use it. For instance, TD Canada Trust does not charge inactivity fees, but will close an account after 24 months of inactivity. Others may charge a fee and then eventually close the account.
Keeping the card active is as simple as swiping your card the next time you buy a cup of coffee and remembering to pay it off, Schwartz notes. But, he warns, if the additional credit is a temptation to you and managing money is not one of your strengths, you're better off closing the account.
"It could be choosing the lesser of two evils in case you end up incurring debt you won't be able to pay off," Schwartz suggests.
See related:
6 steps to close your cards the right way
,
Rising bank fees frustrate consumers
Updated March 18, 2016
Most recent Credit Account Management Stories