5 myths preventing you from becoming a millionaire
Like most full-fledged Canadians, you probably recall the Barenaked Ladies' hit song, 'If I Had a Million Dollars.' But while the Canadian rock group crooned about all the ways they'd spend their money ("I'd buy you some art/A Picasso or a Garfunkel"), it turns out most Canadians are clueless when it comes earning a fortune.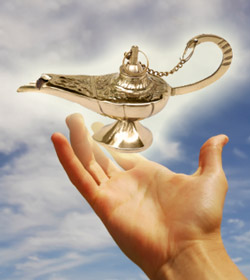 In fact, three-quarters of young Canadians say it's unlikely they will retire with a million dollars in the bank, according to a February 2011 TD Canada Trust Millionaire's survey. What's worse, one-third of respondents say their greatest hope of joining the millionaire's club is to win the lottery. Only one-in-ten said they could retire with one million by putting aside money each payday.
Paul M. Hecht, investment coach and author of "Everyday Real Estate Millionaires: How Average People REALLY Do It," tackles the 5 myths standing in the way of you and your millions.
Myth No. 1: Given recent market crashes, you're better off investing in the stock market than real estate.
"Real estate is much more stable than the stock market," rebuts Hecht. "Over the past 40 years, the stock market has declined in value thirteen times -- every three years -- whereas during the same 40-year period, real estate values have declined only three times. Plus, real estate cycles run every seven to eight years -- making it a much more predictable investment."
Myth No. 2: Keep pouring money into your retirement savings plan and you'll eventually get rich.
"Savings do not make you wealthy," says Hecht. "Saving your money is a good habit, but it will never make you a millionaire. In fact, there are no statistics showing that anyone has actually become a millionaire by saving their money with an RRSP. Millionaires invest their money into something, and they often borrow the money to do it."
Myth No. 3: Your credit card habits have little bearing on your chances of becoming a millionaire.
"Millionaires create good habits around money regardless of how much or how little they earn," Hecht notes. "Credit cards are a mirror of how your current money habits are today. If you are personally paying interest for a depreciable item, then you are on the wrong side of the wealth equation. Good reasons for using a credit card include acquiring air miles or travel miles on business expenses. Other than that, the sooner a person breaks their addiction to credit for depreciable items, the better off they will be."
Myth No. 4: An inheritance is the best way to earn your millions.
"Self-made millionaires acquire the knowledge [and] understanding [of] how money actually works," says Hecht."However, if someone who's unknowledgeable about money were to inherit $1.1 million in cash, they would spend it all or buy investments that were speculative in nature and likely lose their fortune, whether right away or sometime in the future. At the end of the day, self-made millionaires believe they can make their millions from the beginning and do not need an inheritance to become wealthy."
Myth No. 5: Millionaires focus on nest eggs, not portfolios.
"Millionaires save money as a habit, not to build wealth," Hecht notes. "They save at least 10 percent of everything they make for a 'rainy day fund.' When the fund has close to six months worth of living expenses, they invest the average and get their money working for them."
See related: The top 5 reasons why you're unable to save; 7 rags-to-riches Canadian stories
Published May 17, 2011
Most recent Spotlight Stories
Counterfeit bills have a long history in Canada -- The Bank of Canada is unveiling a brand-new dollar bill designed to outsmart fraud. But counterfeiters have a long history of overcoming new security measures, say historians ...
Canadians get a failing grade on retirement planning -- 40 per cent of Canadians say they now expect to retire later than they previously planned. Why? They didn't save enough cash for retirement ...
Credit card debt: A comedy -- Credit card debt is no laughing matter. Unless, of course, you're Jen Gallant, a Canadian comedienne whose latest show finds the funny in sky-high interest rates, surly collections agents and mounting bills ...