5 ways to get a store refund on your credit card
Believe it or not, credit card statements aren't written in stone. If you've purchased an item -- whether it's a gym membership or a lawn mower -- it's never too late to negotiate a refund. Stephanie Holmes-Winton, a financial advisor whose blog, TheMoneyFinder, helps Canadians better manage their finances, offers five ways to get your money back on the purchases you regret the most.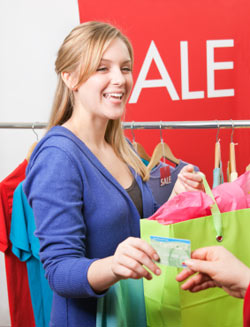 1. Read the merchant's return policy, typically found on the back of your receipt.
In general, credit card companies abide by the merchant's refund policy. So if you wish to receive a refund, first go to the merchant, not the credit card company. For example, if you buy an item that must be returned with the original receipt within 30 days for a full refund, your credit company will hold to those rules. Some companies will also help you if there is a dispute with the merchant. However, there are a good number of restrictions. For example, many of the card companies will not waive interest costs between the purchase and the time the merchant agrees to issue a credit to your card.
2. Keep excellent records of your transactions.
If you return a purchase to a merchant in accordance with their return policy and they issue you a refund, you should most certainly keep proof, at least until you see the credit come through on your card statement. If you don't have any slip confirming the fact you returned the item, and that the merchant accepted and agreed to credit your card, you could have a hard time guaranteeing that money gets back to you.
3. Look to alternative forms of compensation.
Final sales are final sales, and purchases made online, or when the merchant is no longer in business are generally situations where you are not going to get anything back. But keep the lines of communications open. If a full refund is not possible, ask about store credit or exchange. Always call your credit card company and ask for other options if all else fails. But basically, it's buyer beware.
4. Tweet about it.
Twitter can be particularly effective at getting a company's attention if you feel you deserve a refund based on your situation. Some companies are very effective at listening on Twitter and replying directly to consumers to help them out. Just remember, if you've agreed to the rules by shopping with the merchant, you may be out of luck.
5. Consider small-claims court.
Whether or not your battle is worth taking to small-claims court depends on the strength of your conviction, the size of the purchase and the value you place on your time. If you made a major purchase and the merchant isn't following their own rules -- and your credit card company isn't backing you up -- it might just be worth it.
See related: Study: 4 trends that are reshaping Canadians' spending habits; Return fraud outpaces other card crimes
Published May 4, 2011
Most recent Shopping Stories