5 ways to safely donate to charity with your credit card
The next time you feel compelled to donate to a charity, don't be so quick to hand out your credit card. According to a February 2011 survey by Capital One Canada and CanadaHelps.org, Canadians are generous in giving to charities, but 65 per cent worry about fraudulent charges -- a 14 per cent increase from a survey completed in November 2009.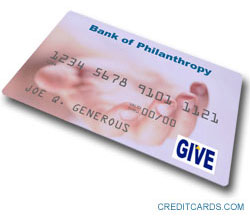 That's not paranoia, according to Laurel Ostfield, senior communications manager at Capital One Canada. "By giving your credit card number over to a fraudster representing a fake charity, they could make fraudulent charges on your account, and you also increase your risk of identity theft."
Unfortunately, charity fraud is having a significant impact on Canadians' willingness to give. According to the CanadaHelps and Capital One Canada survey, more than half of Canadians (53 per cent) indicate that they are less likely to donate to charities because of concerns about charity fraud. Among those who have been victims of charity fraud, almost four-fifths (78 per cent) say they are less likely to give to charity as a result of these concerns.
But there are ways to avoid becoming a victim of charity fraud while still donating to your favourite non-profit organizations. Here are five steps you should take to make sure the charitable organization you wish to support is worthy of your generosity:
1. Check legitimacy. "Check with the Canadian Revenue Agency to make sure the charity is registered," recommends Ostfield. "You can also ask to see a charity's financial statements so you can see how the money is being spent."
2. Donate on secure sites only. "If you are donating online, make sure you are using a secure site before entering your credit card numbers. There should be a locked padlock on the screen and the URL should change to https to indicate the server is secure," says Ostfield.
3. Be informed. "There has been a significant increase in the number of Canadians concerned about charity fraud since 2009," Ostfield notes. That's all the more reason to stay abreast of today's most common charity scams and to speak with a financial institution representative immediately if you suspect you've been duped.
4, Test yourself. Take CanadaHelp's online Charity Fraud Awareness Quiz to learn more about the risks of charity fraud and how to prevent it. By taking the quiz, Canadians will also be eligible to enter a contest to win a $20,000 donation to the charity of their choice, courtesy of Capital One.
5. Do your homework. Research the causes you want to support and how much of your budget you want to donate to charity. Armed with a plan, you'll feel less pressure to give when solicited. And avoid any charity that pressures you into making a donation -- it's typically a bad sign.
Like it or not, charity fraud doesn't single out certain individuals. Nor does it simply impact those who have generously opened their wallets. "Charity fraud can not only compromise consumers' personal financial information, but also reduces the amount of money available to help people in our communities," laments Ostfield. All the more reason for Canadians to take the necessary steps to avoid becoming a victim.
See related: Card scams don't deter online shoppers; How to prevent credit card fraud
Published March 24, 2011
Most recent Legal, regulatory, privacy Stories