4 golden money rules for your golden years
An estimated 344,000 Canadian boomers are scheduled to become seniors this year. But while spending your retirement years on a beach in Costa Rica may sound enticing, the reality is turning 65 can wreak havoc on your finances.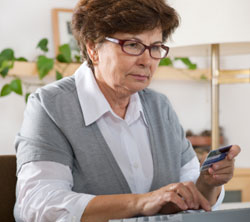 "After years of receiving regular pay cheques, usually from one workplace, getting two or three from different income sources at different times can seem overwhelming," says David Ablett, director of tax and estate planning at Investors Group, a Canadian financial services company. "Juggling government benefits, private or company pension plans, among other sources will require new budgeting skills."
Fortunately, there are some golden rules for getting the most bang for your buck in your golden years. Ablett shares these four tips:
1. Take control of your credit cards. You may get into movie theatres for less now that you're a senior, but there's no easy ride when it comes to paying off your credit cards. "The same rules apply to retirees," says Ablett. "Take charge of your credit cards, check your impulses and take command of your financial life. Paying off consumer debt such as credit cards should still be the greatest priority ahead of paying off a mortgage or bank loans. Retirees should look at their sources of income and amount and develop a reasonable plan to pay off all credit card debt within a set timeline."
2. Reassess your credit cards habits. Carrying a credit card balance may have been just fine when you were earning a regular salary, but retirement requires you to rethink your spending habits. "Credit cards can offer travel points, cash-back options and various other bonuses on your dollars spent," says Ablett. "Seniors do need to adjust their spending, however, if their income has declined, and should be conscious of how their credit card spending fits in with their budget for living expenses. That's because the interest owed on their credit card debt can impact their savings and therefore their overall lifestyle."
3. Create a budget fit for your age. The budget you worked so hard to follow may no longer apply in your golden years. "Make sure your budget is realistic and that your income can cover all the planned expenses," advises Ablett. Also "be sure to take into account periodic expenses, including insurance payments and taxes. Don't forget to budget for vacations! But most importantly, apply the basic rule of budgeting: be sure that on a monthly basis, income will exceed expenses. For retirees, it's important to understand where their retirement income is coming from and how they can maximize it."
4. Understand your pension plan. Old Age Security (OAS), Canada Pension Plan/Quebec Pension Plan (CPP/QPP), company pension plans, Registered Retirement Savings Plan (RRSP) ... there are plenty of sources of retirement income for Canadians to take advantage of. The most important part, though, is figuring out how to make them work for you while it's still early.
"Learn all you can about your pension plan," says Ablett. "For example, you need to determine when you are eligible to start to receive your pension, how much of a reduction will apply if you take early retirement, and if the pension payments are indexed to increases in the cost-of-living."
See related: Can credit cards actually boost your savings?; Pay off debt or save for retirement?
Published June 27, 2011
Most recent Credit Account Management Stories