4 tips for dealing with debt collectors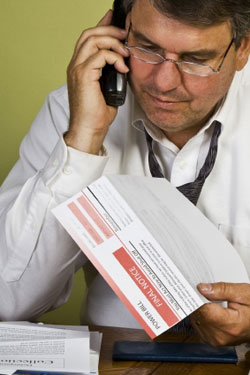 Tough economic times means more and more Canadians are receiving calls from dreaded debt collectors. But as debt mounts and collectors come knocking on the door, now's not the time to turn off the lights and pretend you're not home. Rather, the right strategies can help you handle a debt collector and get a better grip on your finances.
Household debt in Canada reached a record $1.41 trillion in December. If that was spread among all Canadians, each person would carry more than $41,740 in outstanding debt - an amount 2.5 times greater than 1989 after adjusting for inflation and population growth, according to a report by the Certified General Accountants Association of Canada.
"People are starting to find out how collectors function because they're dealing with more debt now," says Elena Jara, education co-ordinator with Credit Canada, a professional financial consulting agency in Toronto.
What's worse, nearly 60 percent of respondents whose debt had increased through the recession -- and 92 percent whose debt decreased or stayed the same -- still felt they could either manage it well or take on more debt.
Here's what you need to know:
Know your rights. Did you know that there are guidelines debt collectors must abide by? Or that it's illegal for a debt collector to harass you? Visiting a website such as Consumer Protection BC can help you understand how agencies work, what are unreasonable collection practices, and how to deal with an unreasonable collector.
Get an early start. The longer you put off dealing with a debt collector, the worse your situation will become. After all, dodging a collection agency's calls is only going to raise suspicions and frustrate your collector. In the meantime, your debt will be accumulating steadily. "It's really important to face the situation," says Jara. "Sometimes it can be handled with just a quick phone call."
Another reason to get a jump-start on contacting a creditor: before you know it, the company you owe money to will handover your delinquent account to a third-party collection agency that'll see you as a number, not a long-standing customer. "When you're in the early stages of overdue debt, you can still deal with creditors directly," says Jara. "But once the account has been sold or sent out of in-house collection, that's when it becomes really hard to renegotiate."
Negotiate. While creditors want their money, they also want to preserve a business relationship with you. For example, Jara says, "You can probably renegotiate your interest terms. If you're paying 18 percent or more interest, you can ask them to reduce it considerably based on your financial situation." It never hurts to ask.
Seek help. Still not getting anywhere with a debt collector? Look for a financial advisor in your community who can walk you through your financial options and advocate on your behalf. By assessing your income, assets, expenses and debts, a counselor "will be able to give you options from an unbiased and objective manner and explain all the options that you have available," says Jara.
Published September 13, 2010
Most recent Legal, regulatory, privacy Stories