4 tips for using retail credit cards
Now that the holiday shopping season has come to an end, you've probably discovered a few extra items of plastic in your wallet: department store credit cards. To be sure, taking on more credit in a tough economy can be a dangerous proposition. But there are some advantages to owning a department store credit card.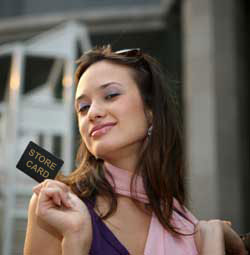 For starters, many department store cards offer 10 percent to 15 percent discounts on your purchases. Others promise no interest charges for a limited period of time -- a significant perk if you're hoping to finance a large purchase. And then there are the cash-back rewards, loyalty points and presale offers many department store credit cardholders are likely to enjoy.
Just ask Margot Bai, Canadian author of "Spend Smarter, Save Bigger: Finding BIG savings in your Home, Mortgage, Vehicles, Insurance and Investments." Bai says, "Department store cards try to lure in consumers with promises of delaying payment interest-free, often longer than regular credit cards. For example, store cards may give 60 or 90 days to pay or even longer for larger purchases. Also, store cards may have reward programs or provide bonus points on an existing reward program."
Still, making the most of a department store credit card entails sticking to some hard-and-fast rules.
1. Consider carefully why you want to get a store card. "If you are looking to the store for credit because you have maxed out with other credit providers, this is a bad sign that you are over-using credit," warns Bai. After all, adding more plastic to your current debt load is only going to make matters worse.
2. Select the right store. "If you are going to get a store card, choose one for a store that you already shop at regularly and that offers a suitable reward program to make it worthwhile," says Bai. If the reward program doesn't meet your requirements, Bai says, "A better choice might be to choose a Visa or MasterCard that is tied to the reward program of your favorite store. That way, you can use the card anywhere while earning reward points for special purchases."
3. Read the fine print. Unlike regular credit cards that carry interest rates ranging from 10 percent to 20 percent, department store credit card rates can run as high as 30 percent. Ouch. "Each store has its own terms and conditions which can vary widely. If you don't fully understand those terms you can end up paying huge amounts of interest," says Bai. "For example, a card may provide an interest-free period of 90 days, as long as the balance is paid in full before the end. Lose track of how much to pay or by when and you could end up paying interest back to the original purchase date at a high rate."
4. You can have too much of a good thing. Sign up for one too many credit cards and you could receive "a hit on your credit report" that "will pull your score down," warns Bai. What's more, she adds, "managing your debts effectively becomes harder with each additional credit card you own, since each card comes with a new bill to remember to pay on time."
In the end, Bai recommends limiting your plastic to a maximum of three credit cards and always be sure to take advantage of a department store credit card's discounts and special offers.
See related: Q&A with personal finance author Margot Bai, Top 10 most common credit card mistakes
Published January 5, 2011
Most recent Credit Account Management Stories