4 ways to spring clean your finances
Springtime isn't just for cleaning out the garage and washing your windows. Now's the perfect time of year to tidy up your finances, too. By taking simple steps such as reviewing your credit card interest rates to refreshing your budget, you can head into the warmer months with a clean slate.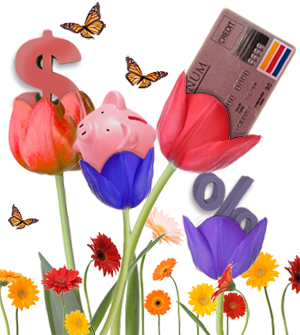 Sarah Deveau, the Canadian author of "Money Smart Mom: Financially Fit Parenting" and "Sink or Swim: Get Your Degree Without Drowning in Debt," offers four tips on how to get started.
1. Review your credit rating. When was the last time you looked into your credit rating? Now might be the time. While credit bureaus store and maintain detailed information about your credit and payment behaviour, they have been known to make mistakes. And that can have a significant impact on your ability to qualify for credit -- or even a home mortgage. "I recommend families check their credit report annually to ensure everything is accurate and up-to-date," advises Dcreeveau. "It's also important to share your credit report with your spouse and ask them to do the same to keep honesty in your financial relationship."
2. Re-read the fine print. If you're smart, you probably check your credit card statement monthly to ensure you're not paying for fraudulent charges. But you'd also be wise to make it an annual tradition to review your credit card's fine print to "ensure you're being charged the interest rate you agreed to when you signed up for the card," warns Deveau. But that's not all. "Examine your fees annually," says Deveau. "If you carry a balance, could you get a better rate elsewhere? Are you paying for exorbitantly priced balance protection? Speak with competitors before you call your credit card company to know what others are offering."
3. Refresh your budget. Now that tax season is almost over, take the time to refresh your annual budget to suit new financial goals and challenges. "It's time to set a budget," says Deveau. "A simple monthly budget should take just an hour or two to create in Excel and a few minutes a month to maintain. Knowing where you're spending your money is the first step in spending less of it on wasteful things."
4. Prepare for rain. If the weather is any indication, now's the time to create a rainy day fund. "If you've found yourself scrambling when unexpected expenses arise, institute a new routine -- building a small fund for those surprise furnace breakdowns, new eye glasses or emergency vet bills," advises Deveau. "Open a no fee banking account and deposit a small amount every month to be used in dire situations only."
Tidying up your finances can be as much of a nuisance as sweeping out your garage. But with a little bit of time and due diligence, you can start the season right.
See related: Q&A with personal finance author Margot Bai; Online financial tools help reduce debt
Published April 27, 2011
Most recent Credit Account Management Stories