Fuel surcharges draining value from airline reward points
Racking up points on your credit card's travel rewards program can be a good strategy for funding holidays. But fuel surcharges imposed by the airlines in the last few years can sink the best of plans for a "free" rewards flight abroad.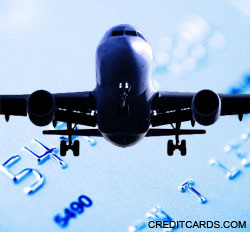 Fuel surcharges are extra fees tacked onto the price of a flight that are supposed to account for fluctuations in fuel costs. If you're paying out of pocket for a flight, you'll earn points on your whole ticket cost -- including the surcharges. But when it comes time to cash in your points, your rewards will only cover the price of the basic ticket. You'll have to fork over cash -- sometimes hundreds of dollars -- for the surcharge.
"I get emails all the time from people complaining that fuel surcharges are insane, especially on flights to Europe," says Patrick Sojka, founder of the travel perk portal Rewards Canada. "A few Asian routes are pretty bad as well, but Europe and the U.K. are the biggest problems in terms of fuel surcharges."
Critics argue that fuel surcharges are subjective and arbitrary, and erode the value of earned incentive points. Some also say that making fuel surcharges ineligible for reward redemption is illogical and unfair to consumers.
"It is not a tax, and if consumers are able to accumulate reward plan credits when paying for the fuel surcharge on regular flights, what is the justification for applying the surcharge when redeeming those rewards?" asks Jonathan Bishop, a research analyst with the Public Interest Advocacy Centre.
Impact on credit card rewards
Fuel surcharges reduce the value of credit card reward points when you go to redeem them for flights. Suddenly, those whopping sign-up bonuses seem a little less attractive.
Take, for instance, the American Express Platinum Card's sign-up bonus. The card gives you a lump sum of 50,000 points if you're a first-time cardholder and charge $1,000 within the first 3 months. American Express values its points at about one cent each in qualified travel purchases, making those 50,000 points equivalent to roughly $500 in travel rewards.
Rack up another $40,000 in spending on the card and you've earned 50,000 more points (Platinum cardholders earn 1.25 points for every dollar charged). You've now got 100,000 points worth $1,000 in AmEx travel rewards.
You might reasonably expect to exchange those reward earnings for a free Air Canada round-trip flight to London, bargain-priced at $967. But you're not done. Based on a fare quote from Air Canada's website, you still have to pay $412 for the airline's fuel surcharge, adding to the pain of the Platinum Card's $699 annual fee.
You cannot earn your way out of the surcharge by spending more on your card. No matter how many points you have, you can't use them for the fuel fee.
Neither the credit card company nor the reward program is the bad guy behind the fuel surcharges. Sojka points to the airlines, which he says did not impose fuel surcharges five or six years ago when consumers only had to pay an extra $80 to $100 for taxes.
"That has now jumped to anywhere from between $400 to $800 in fees, most of which is because of the fuel surcharge," comments Sojka. "Some airlines have split the fuel surcharge out of their base fare, and that's really where the issue has been."
Air Canada's fuel surcharge policy
Air Canada representative Peter Fitzpatrick says the country's largest airline only imposes fuel surcharges on international flights. A note on Air Canada's website confirms that fuel charges for travel within Canada or to the U.S. are embedded in the airline's ticket price -- a policy we verified by checking flight fares through the airline's online booking system.
Fitzpatrick also confirmed that Aeroplan and Air Canada Altitude points cannot be redeemed to cover fuel surcharges.
How does the airline calculate fuel surcharges? "Each market is different, and fuel surcharges vary with such things as the competitive environment, but we provide a fully broken out fuel surcharge at the time of booking prior to final purchase so people can see exactly what they are paying," the spokesman says.
WestJet's fuel surcharge policy
WestJet is Canada's second-largest airline, running flights to more than 80 destinations in North America, Central America and the Caribbean.
Brie Ogle, a WestJet media representative, wrote in an email that WestJet has no fuel surcharge on public fares. However, the fine print in an online WestJet notice mentions that fuel surcharges from $22 to $45 per flight apply to Air Miles redemptions for bookings to U.S. and Canadian destinations until Oct. 26, 2013.
And Ogle wrote, in an apparent contradiction to his own statement, that WestJet dollars earned through WestJet RBC MasterCard spending cannot be redeemed for taxes, fees or surcharges of any kind. Also, guests who redeem Air Miles for a WestJet flight "must still pay the taxes, fees and surcharges separately."
Bottom line: check carefully for surcharges before you redeem miles for any WestJet flight.
Other airlines' policies
Air passenger services from other countries also impose fuel surcharges. Rewards Canada's Sojka estimates that 80 per cent of all airlines charge fuel surcharges on international flights.
"A lot of people in Canada are members of the British Airways executive club program," notes Sojka. "British Airways has huge fuel surcharge fees for flying to Europe as well."
Still, several carriers do not collect fuel surcharges. Sojka says that when you redeem points under British Airways' partner Cathay Pacific for a trip to Asia, Cathay imposes no fuel surcharges. And US Airways and United Airlines are two U.S.-based airlines that never add fuel surcharges on any flights.
Circumventing fuel surcharges
Sojka says Canadians can skirt the fuel surcharge exclusion on reward flights by crossing the border and flying out of a U.S. airport on an American airliner that doesn't impose fuel surcharges separately. For example, you can redeem miles earned on Air Canada to get a United flight to Paris, saving you hundreds of dollars in fuel surcharges.
"It's the same reward miles you're using, and because United doesn't charge for those fuel surcharges, that same ticket is only going to cost you $100 to $120 [in out-of-pocket money] versus the $600 for Air Canada," explains Sojka.
Admittedly, you may not want to travel south of the border to pick up a U.S.-based flight. "The best of both worlds would be if [airlines] gave consumers another option," concludes Sojka. "You could pay cash for extra fees or use reward points for those fees."
Another option is to forget about "free flights." Instead, redeem your accumulated reward points for free hotel stays or rental cars and shop for discounted airline tickets.
See related: Most travel rewards points go unused, Strategies for maximizing frequent flyer credit card points
Published April 9, 2013
Most recent Airline / Frequent Flyer Programs Stories