Getting started with plastic: debit, secured and prepaid cards
In today's world, not having payment cards can be difficult: you can't shop online, you have to make sure you have cash on you at all times, and if your cash is stolen, it's gone. Plastic can alleviate all of these issues, and more, but it can be intimidating to jump right into credit.
If you're wary of payment cards, try these "starter plastics" -- debit, prepaid and secured cards -- to acclimate yourself.
1. Debit cards.
"Debit is the great go-to solution" says Brian McCabe, vice president, core deposits and payments, Scotiabank. "Canada has one of the world's greatest debit platforms in Interac." He lists as benefits of debit cards: there's a high acceptance rate with retailers, it's easy to use and it's innovative, with Interac Flash (contactless payment) and inclusion in mobile wallets.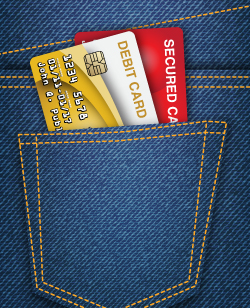 "The big limitation in the past with debit was that it was a Canadian solution," says McCabe. "If you were travelling outside of the country
or if you were shopping online or with your phone, the acceptance with Interac was pretty limited."
That has changed. Visa and MasterCard debit cards are usable anywhere Visa or MasterCard are accepted, worldwide and online.
"The card is wired to know which way to process the transaction," says McCabe. In a physical store in Canada, it processes as an Interac transaction. Online or outside of the country, it process as a Visa or MasterCard debit. Both come directly out of your bank
account at the time of the transaction.
Both debit and credit cards also fall under the same rules in terms of protection for fraudulent activity, as long as you follow safety
standards, such as not sharing your PIN with anyone, says Glenn DeSouza, vice president of retail cards, sales and client engagement, Royal Bank of Canada.
However, being a debit-only consumer has disadvantages.
"The potential downside to being a debit-only purchaser is you can still get yourself into some trouble because you're using your main bank account," says McCabe. "You run the risk of spending too much and not leaving enough in your account to pay your rent or your grocery bills."
To limit that risk, he suggests setting up an alert to warn you when your balance goes below a certain amount. Check with your bank to see what options are available.
Additionally, credit cards come with certain purchase protections that debit cards may not offer, such as price protection. And the biggest downside is that with debit, you are not building credit.
2. Reloadable prepaid cards.
To take advantage of the convenience of plastic without the risk of busting your budget, you can try a reloadable prepaid card.
A reloadable prepaid card is not the same as a fixed-value gift card that you discard after you spend it. Instead, you load these prepaid cards with funds and then use it as you would a credit or debit card anywhere that Visa or MasterCard is accepted, either online or in person, then you can reload the card when it's empty.
McCabe says reloadable prepaid cards are a great payment solution for certain people. For instance, they are popular with those on fixed budgets who need to closely watch extraneous spending. By loading their discretionary budget onto the card each month, they can use it for non-essential purchases without worrying about draining their bank account.
Prepaid cards also can be useful for out-of-town students. These cards are an easy way for parents to send funds to their children for items such as groceries or books, McCabe says.
It's easy for parents to budget for a reloadable card. With a credit or debit card, by contrast, parents would have no way to control how much money they might end up shelling out each month (other than their child's trustworthiness, of course).
Similarly, some parents give reloadable prepaid cards to their nannies to pay for gas or buy meals for their children when they're out and about during the day. Prepaid cards are much easier to use than running to the bank machine for cash.
Finally, a prepaid card is a secure way for people to leave card details online with a retailer to speed up the check-out process. And because it is registered, a reloadable prepaid card has the same protection as a traditional credit card, so there is zero liability if you experience fraud.
"We have a profile in our system that we know that customer and the information there, as opposed to a gift card, which is completely anonymous," says McCabe.
Watch out for fees on these prepaid cards, though. Scotiabank charges a one-time purchase fee for reloadable cards, and then there is an annual $10 fee. There are no additional transaction fees. And McCabe points out that, as with debit, you cannot build credit history with a prepaid card. Plus, not all financial institutions offer these cards.
3. Secured credit card.
If you're looking to establish credit and don't qualify for a traditional credit card, a secured credit card may be the way to go. With a secured card, you must pay a deposit, which is then held as collateral against the card. Your credit limit generally corresponds with your deposit.
You can use a secured card just like a regular credit card -- you charge items, receive a bill, then pay it back by the due date each month. Your payments and your credit limit are reported to the credit bureaus, so you build up your credit history over time.
"The benefits of a secured card are essentially the same as what you would get with a traditional credit card," DeSouza says. You can use it for in-store, online or mobile purchases, you can earn rewards, and you are protected against fraud.
If you have a previous bankruptcy or other credit issue that has dropped off your credit report, and are looking to re-establish credit, then a secured card may be a good option for you, DeSouza says. "You'll be able to demonstrate payment capability and responsibility of taking on a loan and paying it back and will start to build your credit score over time," he says.
And in time, after you've built (or rebuilt) your credit history for a year or so, you can transition from a secured card to an unsecured card.
Not all credit card issuers offer secured cards, though, and their qualification policies differ. For example, while some credit card issuers offer secured cards to those with a poor credit history, including those with recent bankruptcies, DeSouza says that to qualify for a secured card at RBC, "you have to be looking to establish new credit or have credit in good standing." This means you can't have a previous bankruptcy or unpaid write-offs that are still reported on your credit report, and you can't be involved in a consumer proposal or credit counselling arrangement.
Once you've dipped your toes into the plastic waters, you can upgrade to a regular credit card. Then, in time -- and with a high credit score -- you may want to switch to an elite card with rewards and premium perks.
Think of the various card options as a natural progression. Choose the card that works best for you at a given point in your life, and then change cards as your needs and spending lifestyle change.
See related:
Prepaid cards gain traction in Canada
,
Choosing a debit card for every life stage
,
Cash, debit or credit? When to use which payment
Published August 11, 2016
Most recent Prepaid / Secure / Debit Cards Stories