Worldwide conman captured in United States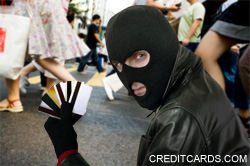 Swanky hotels served as fertile harvesting grounds for Juan Carlos Guzman-Betancourt, a conman who swindled credit cards and jewelry from people around the world by acting as though he were an affluent traveler.
Yet the vacation is over for the 33-year-old Colombian native. Betancourt -- a wanted man on three different continents -- was apprehended by police at a gas station in Vermont after illegally crossing the Canadian border. He faces charges in up to eight different countries, including Canada, Colombia, Japan, Mexico and the United States, according to an article in the U.K. Guardian. http://www.guardian.co.uk/world/2009/sep/30/guzman-betancourt-conman
During the course of his 15-year career, Betancourt's conning skills have been compared with those of the infamous conman Frank Abagnale, who is the inspiration behind the film "Catch Me If You Can." Betancourt adopted the identities of clergymen, princes and other wealthy hotel patrons. The elusive thief even escaped from a British prison in 2005 by persuading the authorities to let him visit a dentist without an escort, according to an article in the National Post. http://www.nationalpost.com/m/story.html?id=2043567
In total, Betancourt is believed to have stolen at least $1 million worldwide. His most recent heists took place in a Toronto hotel, where he stole from several rooms after convincing the staff that he was locked out of his room.
His plan of attack centered on information gathering. Betancourt would peruse through the lobbies of elite hotels from Tokyo and London to Las Vegas, gleaning information about guests from their bar tabs and unsuspecting maids. The well-spoken and impeccably-dressed Betancourt would then casually approach a staff member, claiming to have lost his room key. Betancourt avoided suspicion by using the information he learned about the victim in conversation with the staff. For example, if Betancourt was assuming the identity of a father, he might offhandedly mention his "daughter's" name.
Once he charmed his way into a hotel room, Betancourt would phone hotel security and bemoan his inability to remember the safety deposit box code. Then he would disappear with the contents of the safe.
Using these techniques, Betancourt made off with thousands of dollars worth of merchandise and credit cards. Some highlights include a swiping of more than $60,000 in jewelry from the Mandarin Oriental hotel in London and stealing more than $300,000 in Las Vegas, in what is thought to be his largest caper.
Betancourt is currently being held in the U.S. state of Vermont.
Published October 6, 2009
Most recent Legal, regulatory, privacy Stories