Getting help for your debt-accruing vices
Vices such as smoking, gambling, and drinking are often seen as dangerous to your mental or physical health, but they can also be a danger to your finances. However, even if you think you're in too deep, there are ways to escape your addictions and get your finances back on track.
Debt and addictions often go hand in hand. A 2013 survey conducted by Credit Canada Debt Solutions suggested many Canadians have lost control of their finances because of money spent on their vices. Cigarettes and lottery tickets were among the top vices cited, and 76 per cent of respondents said they knew when they were spending too much money on certain items, but had a hard time stopping.
Your financial situation can get even worse if you have access to credit, says Laurie Campbell, CEO of Credit Canada.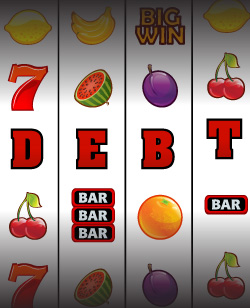 "This slippery slope is very common," she says. "You spend your money, use your credit card and it can result in a huge debt problem."
Spot the warning signs
If your vices are tied to your psychological wellbeing or hinder daily life, it's time to get help, Campbell says. If you're not sure what stage you're at, there are some red flags to look for.
For instance, you may be hiding your purchases or your finances from family members, or eating into your savings or maxing out credit cards to get your fix. You may even begin skipping work, selling your possessions or tapping family and friends for money. Collectors may start calling, and you start losing sleep over the damage you've incurred.
"There's a buildup of tension, the behaviour to alter your mood and decrease the anxiety, followed by guilt or remorse," says Brad Klontz, a clinical psychologist and certified financial planner, and co-founder of the Financial Psychology Institute.
These red flags are obvious, even if you're in deep, says Rachel A., a sponsor with the Toronto Debtors Anonymous chapter, members of which go by first name only.
"Your stomach lurches when the bills come in and you don't open the mail," she says. "You owe friends money and you avoid them because you can't pay them back. You think about money all the time."
Fix the problem, not just the symptoms
You can turn to credit counsellors or financial institutions to help straighten out your finances, but there's another aspect to consider.
"Debt can be a consequence of an addiction or compulsion," says Klontz. "Your debt is a symptom of an underlying disorder and to try to fix the symptom -- the debt -- temporarily relieves the problem at best. You have to treat the underlying disorder. You have to admit to yourself that it's out of control."
He says admitting you're grappling with addiction is the first step to recovery. Rachel says from experience that admission is key. She joined Alcoholics Anonymous in 2006 when she was $33,000 in debt. That one move helped her tackle her underlying problem, alcoholism, first, then her debt problem followed. Today Rachel is debt-free.
The next step is intervention through professional counselling -- for financial and mental help -- along with assistance from others, such as family, friends or even someone like Rachel, who works with an organization specifically designed to help people in your position. Credit Canada partners with community groups that offer confidential support to address addictions and mental health issues.
"They help us recognize the signs and how to help [people who come to us]," Campbell says. "Because of our connections, we can provide appropriate referrals."
Rachel says she holds others' hands while they go through steps such as visiting a credit counsellor or calling creditors.
"They're terrified of telling their creditors they can't make the minimum payments, so they'll call me first to rehearse and call me back with a report of what happened," she says. "It's emotional support."
"You have to hit bottom and life has to get so difficult that you're willing to do whatever it takes to get out of it," Klontz says. You can start by asking friends or family for help, or you can seek professional care. You can contact a rehabilitation centre that specializes in your addiction, or reach out to the Canadian Centre for Addictions or Debtors Anonymous.
See related:
5 ways to defuse shopping addiction triggers
,
Credit cards raise stakes for online gamblers
Published February 5, 2016
Most recent All credit card news Stories