Home as collateral should be last resort
You're sinking in debt but sitting on home equity after chipping away at your mortgage for years. It may be tempting to pay down some of the charges on your credit card by dipping into your mortgage but is it worth leveraging the roof over your family's head?
Home equity lines of credit (HELOC) are tempting propositions for Canadians struggling with credit card bills and other debts. They appear to be a win-win deal for the consumer and the creditor. Homeowners use their houses as collateral to secure lower interest rates and flexible borrowing terms, while lenders consider these loans lower risk because they're secured by property.
HELOCs are popular with Canadian homeowners, too. A November 2014 Canadian Association of Accredited Mortgage Professionals report found that 22 per cent of Canada's 9.62 million homeowners have a HELOC, and on average they use about 42 per cent of their borrowing capacity.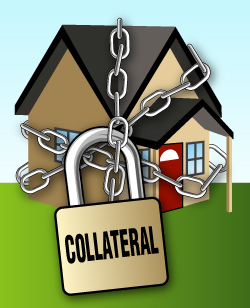 Why HELOCs are risky
But many experts warn against HELOCs and say most Canadians don't understand what's on the line. A 2011 survey found that while 59 per cent of respondents said they're confident in their understanding
of HELOCs, only 38 per cent could answer three out of eight
true-or-false statements about them.
Ray LeClair, a real estate lawyer and spokesperson for insurance provider LawPRO, which conducted the study, says the organization hasn't surveyed Canadians again on the topic but his guess is that the findings would be similar. In his career, it wasn't unusual to come across clients who didn't understand that they'd used their homes as collateral for a line of credit.
Your hands are tied in myriad ways when it comes to HELOCs,
LeClair warns. "If you aren't careful, your home as collateral could apply to existing loans, credit cards, future lines of credit, future borrowing and any liabilities," LeClair says. "People don't appreciate that subtlety ... it's an all-encompassing document."
In most cases, consumers don't consult legal advice or even review the loan documents before signing up for a HELOC. LeClair recommends talking with a real estate lawyer or financial adviser when considering a HELOC.
Experts wary of HELOCs
Scott Hannah, president of the national Credit Counselling Society, says that he's seen consumers decide on a HELOC as a debt consolidation option. The LawPRO poll found that 37 per cent were using a HELOC for home renovations, 17 per cent for a car, 11 per cent for basic living costs and 11 per cent for a vacation.
None of the experts who spoke with Canada.CreditCards.Com recommends using a HELOC for any reason -- the risk of racking up debt again, this time with your family's home on the line, is too high, in their opinion.
"We've seen consumers who've gone down this path and, over time, reached the limit of their line of credit and go back to using credit cards," Hannah says.
Even if you feel you can handle a HELOC -- for example, if you have a great payment history and use the loan to fund a child's university costs -- you run the risk of something going wrong if interest rates rise, the housing market dips or you lose your job.
"You don't want anything tied to your house -- for most people, it's the biggest asset they're going to have so don't put it at risk," says David Trahair, a chartered professional accountant and author of several personal finance books.
Hannah says he also doesn't like that lines of credit are open-ended. "You're only required to make a minimum monthly payment," he says. "There is a start date and no end date so you could be making minimum payments in perpetuity."
The experts advise consumers to consider other options instead, even if those options come with higher interest rates. The Credit Counselling Society rarely recommends a HELOC and even then it's on a "very cautionary basis," Hannah says.
See related:
Should you downsize your home if you're in debt?
,
Retiring with debt
Published June 2, 2015
Most recent All credit card news Stories