How employers can help boost money management skills
The government and nonprofits alike are exploring ways to deliver financial literacy training in the workplace, thanks to a demand for money-management training. The practice stems from a key recommendation from the 2011 federal Task Force on Financial Literacy's final report.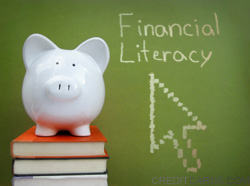 Pre-employment financial literacy

Sidebar: A homeless and at-risk sanctuary spokesperson recalls how an employment preparation program changed one participant's life.
And the timing couldn't be more critical. According to the Canadian Payroll Association's 2013 survey, 42 per cent of employees would have trouble meeting financial obligations if their pay cheque was delayed by just one week. And with household debt hovering around historic highs, most Canadians anticipate working longer as they grow older: Sun Life's 2014 Canadian Unretirement Index shows that only 28 per cent of workers expect to be fully retired at age 66.
One perk to teaching financial literacy skills in the workplace is that instructors can connect with vast numbers of Canadians from diverse backgrounds. The Task Force report also notes people are more receptive to absorbing financial concepts associated with "teachable moments" involving real money tied to workplace financial decisions, such as joining an employer pension plan or group retirement savings scheme.
From the employer's perspective, financially literate employees can better focus on work responsibilities rather than debt and other financial worries, leading to better productivity and attention to detail in their respective jobs, says Credit Counselling Society President Scott Hannah. In addition,Elena Jara, director of education for Credit Canada Debt Solutions, says employees with financial difficulties are more likely to steal or embezzle from their employers.
Aside from benefiting both employees and employers alike, personal money smarts can uplift the overall economy by improving each and every Canadian's financial and emotional well-being, says Phil Wilkins, community outreach manager for Consolidated Credit Counseling Services of Canada.
Government initiatives
The Financial Consumer Agency of Canada (FCAC) is responsible for developing the nation's overarching financial literacy strategy. FCAC spokesperson Isabel Jenish says most projects are in their testing stages.
One example is the February 2013 partnership between the FCAC and the Centre for Entrepreneurship and Education Development (CEED), which evaluated the potential use of the FCAC's Your Financial Toolkit in an employment setting. As part of that pilot project, CEED conducted 21 workshops with approximately 150 participants in the Halifax area.
Feedback for the workplace training was positive: most workers agreed they had gained the knowledge, skills and motivation to bring greater order to their personal finances, and 82 per cent of attendees expressed an interest in further financial literacy sessions. All participating employers were agreeable to hosting future training.
Credit counselling agencies aim to fill the gaps
Nonprofit credit counselling agencies aim to meet the immediate demand for workplace financial literacy education. Many debt-counselling firms offer group training as well as one-on-one sessions for employees with specific questions and issues that they prefer to discuss in private.
*The Credit Counselling Society
The Credit Counselling Society works with a variety of employers across Western Canada and Ontario to deliver financial literacy workshops and lunch-and-learn sessions.
Hannah says when a company is going through a reorganization or downturn and finds it necessary to cut back employee compensation or hours in order to survive, employers approach the Credit Counselling Society for preparatory workshops dealing with reduced worker income.
*Consolidated
Consolidated provides free workplace financial literacy programs nationwide. According to Wilkins, the most popular seminar is "Budgeting Made Easy" because participants intuitively know that budgeting skills are the cornerstone of financial planning even if they aren't putting that knowledge into practice. Another in-demand workshop is "All About Credit" which Wilkins describes as an introduction to the realities of borrowing money.
*Canada Debt Solutions
Canada Debt Solutions presents customized train-the-trainer workshops to companies upon request.
Nonprofit credit counselling firms also are taking a leading role in using technology to communicate financial literacy skills via employment channels -- essential because the country's size is a major logistical challenge for delivering financial literacy training to distant employment sites.
Jara says Canada Debt Solutions has collaborated with Family Services Employee Assistance Programs (FSEAP) -- a national provider of employee wellness solutions -- to deliver financial literacy webinars.
Wilkins says that Consolidated is enthusiastic about its innovative 'Budget Lounge' program now rolling out across Canada, which provides businesses or other organizations with an individually branded 'Budget Lounge' website where their employees can access pertinent financial literacy information.
Consolidated will also introduce a series of live webinars that allow its debt management experts to interact with Canadians from all corners of the country, and with uses that extend beyond the workplace.
"The presentations will be tailored to the specific organization we are working with," says Wilkins. "The training materials will be archived online so interested people can access them at their leisure and even share them with friends and family if they wish."
The Credit Counselling Society offers free webinars to consumers across Canada, and is in the early phases of looking at the feasibility of delivering similar training to employers. Hannah says the organization hopes to launch live and interactive video conferencing workshops in 2015 that interface through a company's existing telecommunications facilities.
"We see this as an effective way of reaching the employees of resource-based companies that are located in remote areas of Canada," says Hannah.
See related: Your financial literacy reality check; Poor math skills contribute to Canadian debt problems
Published July 10, 2014
Most recent All credit card news Stories