Author account: How my bank account has evolved with me
I wasn't even a year old when my parents opened my first bank account with TD Canada Trust. It's a sentimental story my family members still bring up: my cousin, John, who was a teenager already, didn't have much experience with babies, but he was enamored with me. When he got his first job, he gave me his first paycheque.
That TD account grew each year with money from birthdays, Christmases and other milestones in my life. It also stayed untouched while I was under my parents' roof.
According to Brian McCabe, vice president of day-to-day banking and payments at Scotiabank, most youths in Canada start on a banking path nearly identical to mine.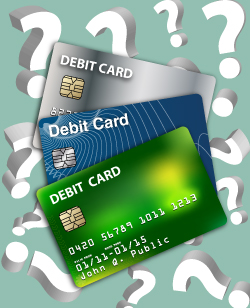 Choosing the right debit plan for every stage of life

With more than a hundred bank account packages to choose from, it can be hard to know which is right for you. Here are some factors to consider, whether you're opening your first account or just readyto make a switch.
"What we see in the very early years is an account that looks more like a savings account with money from birthdays or holiday gifts," McCabe says. "You don't see very young children making a lot of transactions but as they start to get part-time jobs and an income, you see it start to change."
I had that starter account for nearly two decades. It would seem McCabe is right about young adults and spending, as my experience followed his generalization almost exactly. By the time I was in high school, I had a part-time job and I was a spendthrift. Clothes, lunch in the food court and movie tickets all went on my debit card, and I was racking up fees per swipe.
It's no wonder that when I got to university, a Bank of Montreal promotion enticed me. With the promotion, as long as I was a full-time student, my monthly chequing account fees would be waived. The bank was also offering $50 to new clients as a way to woo them from other banks.
Convenience was a factor, too. BMO lines always looked like the shortest ones, which was appealing because I had to deposit my paycheques from my part-time job every two weeks.
I haven't left BMO since. However, after I graduated, I noticed BMO was charging me $13.95 a month for its Performance Plan. I no longer had access to the $10/month student discount, and I wasn't keeping a $3,500 balance in my account (the required minimum to stay fee-free without my student discount). Ultimately, I ended up changing to a Plus Plan, which waived monthly fees as long as I kept $2,500 in my account -- a much more manageable goal for me.
However, as I get even older, things are changing again.
First of all, my payment habits have changed. McCabe says high school and university-aged consumers tend to avoid credit cards, and again, this rang true for me. When I was struggling with student debt and making the rent, my credit card was more of a burden than a tool. Now that I have a steady income, however, I use my credit card for everything and pay off the balance at the end of the month.
The Plus Plan with its 30 transactions a month was just fine, but I'm starting to rethink my needs in that area as well. At this point, I use my debit card for some purchases and to withdraw cash; I write cheques to pay rent; and I transfer money electronically to friends or family. The checks alone are $50 for 200, withdrawals from a non-BMO ATM cost me $3.00 and the e-transfers are $1.50 apiece.
Perhaps I'm growing into another life stage; I'm considering taking my account to a $30 Premium Plan, which comes with unlimited transactions, five free e-transfers a month, and free cheques, money orders and drafts. The monthly fee is waived as long as I keep $5,000 in my chequing account, which is within reach for me now.
If I hadn't heeded expert advice to use online bank plan comparison tools, I never would have thought to change my plan again. But once I evaluated how I pay for items and what services I use most, I've found a new, seemingly more expensive plan could actually save me money.
Published May 7, 2015
Most recent Prepaid / Secure / Debit Cards Stories