How to spend less on Fluffy and Fido
Millions of Canadians own pets, and as every pet parent knows, owning a fluffy cat or a cuddly dog comes with various expenses -- and some can be quite costly. As the multibillion-dollar pet industry in Canada continues to boom, more consumers are pulling out the plastic when they need to spend money on their animal companions.
According to Moneris Solutions Corporation, Canada's largest debit and credit card processor, in the third quarter of 2015, specialty retail spending was up 7.78 per cent from the same period the year before, and pet shop spending in particular rose by 9.63 per cent. This makes sense when you pair it with the fact that Canadians owned 7 million cats and 6.4 million dogs as of February 2015.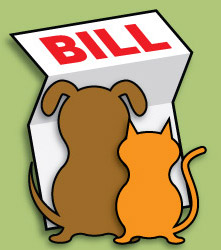 "People are thinking that their animals are like themselves so they're giving them more care," says Rénald Sabourin, assistant executive director of the Pet Industry Joint Advisory Council of Canada. He says people are also more likely to see their pets as a member of the family -- a growing trend known as pet humanization.
Combine pet love with an increased ability to shop online from home, and it's easy to see why more people are shelling out for everything from premium pet food to squeaky toys while sitting at their computers. "Purchasing online has increased quite rapidly," says Sabourin, adding that the trend partially accounts for the increase in credit card spending.
Recent statistics seem to confirm the theory. In 2016, the Huffington Post reported that pet owners would spend a total of US$60.59 billion on their pets that year, particularly on food, vet care and medicine.
Jeanette Brox, a certified financial planner in Toronto, says she often talks with clients about how much they spend on their pets. Many people underestimate exactly how much their animals cost them -- or could set them back in the future. "When animals are young, they don't need a lot of extra care, but when they're older they can cost a lot," she cautions.
So what can pet owners do to reduce their expenses both today and well into their pet's golden years?
Be proactive about health care.
"You have to know your animal," says Brox. "There are certain breeds of cats and dogs that develop issues down the road. If you know what they are, you can prepare for them." For instance poodles are known for problematic teeth. Knowing this, you can invest a few dollars on tuna flavoured toothpaste and a good brushing rather than spending hundreds of dollars on dental care later at the vet.
Food for thought.
Pet food doesn't have to be expensive. Rather than spending $100 on a bag of premium food at the local pet store or vet's office, there are perfectly good, and less pricey, choices to be found at the big box stores such as Costco and Wal-Mart. Buying in bulk saves money.
In fact, skip the specialty stores entirely.
Pet stores are fun to visit and they certainly have a choice of products, but the markup can be high. A recent trip to Bulk Barn, a large food retailer in Ontario, revealed that small animal bedding there cost half of what it cost at the pet store down the street. Shop around.
Think before paying for pet insurance.
Pet insurance can be costly, and you may find you're still paying a large premium if your animal gets sick anyway. Another option? Create a pet emergency fund instead, says Brox. Set up an automatic payment system so that $20 or $30 is deposited into the account each month. By the time your pet is older and more likely to need treatment, that cash will be ready -- and you won't have to pull out your credit card to pay the bill.
See related: 8 pet emergency financing options
Updated April 11, 2017
Most recent Shopping Stories