How to beat fraud -- and avoid becoming a Canadian headline
Think credit card fraud doesn't happen in kinder, gentler Canada? Think again. There are some high-profile credit card scams currently making headlines across the country.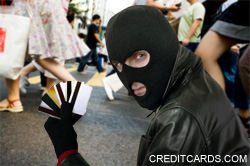 Consider the 22-year-old computer expert from Saint-Joseph-du-Lac, Quebec who was charged this month with identity theft, fraud and credit card theft. Quebec provincial police say they've uncovered an identity-theft scheme that robbed more than 10,000 people of $1 million total. By creating fake emails purporting to be from financial institutions, the fraudster solicited confidential information online and then applied for credit cards in the victims' names.
And then there's the U.S. Federal Trade Commission's decision to sue an internet entrepreneur from Sherwood Park, Alberta over allegations he used deceptive business practices to steal more than $450 million from customers since 2007. In a complaint filed in Seattle on May 16, the FTC alleges the clever Canadian used "risk-free" trial offers to get customers' credit card numbers and then billed them each month for products like tooth whiteners and weight-loss products.
So how can you avoid being part of yet another national newspaper headline? Cam Johnston, owner of The Johnston Group, a computer network and security consultancy in Ottawa, offers these tips for keeping your credit card safe from fraudsters.
1. If you have any doubts regarding a website's legitimacy, do not make any purchases.
2. Many sites include fraud warning pages that offer up-to-date information regarding current fraudulent activities and signs of fraud. Be sure to read these warnings before making a purchase.
3. Do not click on 'Store card information for future purposes' or the like in your browser account settings or if a site prompts you to do so. One-click convenience purchasing on your next purchase isn't worth the risk of identity theft.
4. Limit your exposure by using an intermediary like PayPal or Electronic Money Transfer through your bank's website. The retailer will receive payment without forcing you to share your credit card information with them.
5. Take advantage of services now being offered by credit card companies that will alert you when large purchases are being made on your credit card.
6. In the real world, observe credit card terminals to ensure that there are no 'add ons' that might be used to intercept your card information. These 'add ons' may include extra wires or a device that has been glued to the keypad or card slot. If the terminal appears modified in any way, do not use a credit or debit card in it.
But what if you've taken all the necessary precautions and you've still fallen victim to credit card theft? Here's what you can expect:
A call from your credit card company's fraud prevention department. "Card brands have very advanced computer algorithms and dedicated people checking to ensure that fraud is caught early," says Johnston.
An irregularity on your credit card statement. If the fraud prevention department doesn't catch any fraudulent transactions, it's up to you to review your credit card statement. "Read the bill carefully to ensure all the transactions are recognized and if there is any doubt, contact the card brand using the number on the back of the card," advises Johnston.
There's no avoiding credit card fraud altogether. But by keeping a close watch on your credit card statements, and looking for clear-cut warning signs, you can avoid becoming a victim of fraud -- and part of tomorrow's newspaper headline.
See related: Expert Q&A: What you can do to minimize your risk of card fraud; 5 ways to safely donate to charity
Published May 31, 2011
Most recent Credit Account Management Stories