How to change your money-wasting habits
In Canada, household debt hovers at more than 150 percent of personal disposable income, according to a February 23 quarterly economic review by the Bank of Canada. In fact, increased consumer borrowing, along with mortgage debt, rising house prices and low interest rates (which can encourage consumers to take on debt) could spell trouble for the Canadian economy, economists warn.
While things like house prices are beyond consumers' control, there are steps Canadians can take to free up money for the things that matter. Jeffrey Schwartz is executive director of Consolidated Credit Counseling Services of Canada, Inc., a Toronto-based not-for-profit organization that provides credit counselling and debt management programs throughout Canada. He offers these quick tips for better managing your old debt -- and preventing yourself from building up new debt.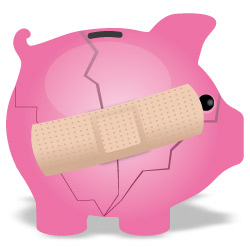 1. Create a budget.
It sounds simple, but many Canadians fail to think about (and keep track of) where they're spending their hard-earned dollars
"Making a budget is nothing more than taking a snapshot of your personal finances," Schwartz says. "It's all about figuring out where you spend your money, how much you spend and how much you have coming in."
2. Use a money-managing tool.
You don't need downloadable apps and fancy calculators to track your spending. An effective "money management" instrument can be as rudimentary as a little booklet, says Schwartz.

"You simply pull it out every time you spend money," he says. "At the end of the day, you'd be surprised to see how much you've spent."
The point of this money journal isn't to sacrifice things you enjoy, but to find ways to enjoy them within the confines of a budget.
"The premise behind it is to really identify alternatives to things you've purchased so that you don't have to cut items out your lifestyle, but instead find ideas on how you can spend less money for the same things," Schwartz says.
3. Wake up to reality.
The next time you grab a muffin to purchase along with your café au lait, Schwartz recommends thinking about whether your spending "has become unconscious."
"Now it's almost like a habit," he says. "We're automatons going to a coffee shop and naturally pulling out whatever money we need to get whatever item we want."
However, being mindful of the purchases you make (even a small item like a muffin), Schwartz says, can help you transform your "state of mind" to spend more wisely.
"In the early '80s, Canadians were saving at the rate of almost 20 percent," he says. "Now we'd be lucky if we saved at less than a quarter of that. There really has to be a mind shift regarding how we deal with our personal finances."
4. Make debt repayment a priority.
Reducing household debt isn't just about cutting back on expenses -- it's about not forgetting the debt you have to repay.
According to Schwartz, a "surefire" way to remember your debt is to "add a line item in your budget for debt repayment in the same way you would for a mortgage or car payment."
See related: Making sense of your credit card statement; Author Q&A: How your mindset affects your spending
Published March 1, 2012
Most recent Credit Account Management Stories