How to detect a fake debt collector
A call from a collection agency is stressful enough without the worry of a scammer being on the other end. But fraudsters do use debt collection as a way to try to get your sensitive information, so it's vital that you know how to identify a potential thief. If you feel the caller is not legitimate, stay calm, don't give away any information about yourself, take steps to verify it's a fraudster, and then report the caller as soon as possible.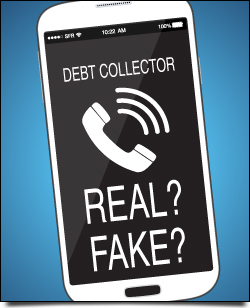 Debt collection scams are more common in the United States than in Canada, according to Cliff Strachan, president and COO of private investigations firm Investigative Research Group and former Ontario Provincial Police superintendent. But based on history, after criminals enjoy success south of the border, it is only a matter of time before similar ploys increasingly target Canadian victims, he says.
The crimes anger not only their victims, but also legitimate debt collectors. "With so many rules legitimate agencies have to follow, the collection business is hard enough," says Blair DeMarco-Wettlaufer, COO of Kingston Data and Credit. "We certainly don't need someone damaging our reputation, illegally collecting money
from unsuspecting consumers."
Red flags signaling a debt scam
Beware of any collector who:
Ignores advance notice requirements. In most provinces and territories, you must receive written notice that a delinquent account was turned over to a collection agency. If you didn't get a notice letter, you can request a copy before discussing the alleged debt further.
Refuses to give proper identification. Collectors are required to divulge the true legal name under which they're licensed, the legal name of the collection agency, the original creditor's name and the debt amount owed.
Employs obnoxious scare tactics. Demarco-Wettlaufer says that, based on his 25 years of experience in the debt collection industry, the more aggressive and rude callers are, the less likely it is that they've been trained or licensed under the provincial/territorial collection regulations where they operate.
Asks for sensitive personal information. Strachan, who has an extensive background investigating credit card fraud and identity theft, says to be particularly careful if the collector probes for identity-related data such as your date of birth, social insurance number or address. That information should already be in your file from the original creditor.
Tries to collect another person's debt. "You have no responsibility to pay for anyone else's debts unless you were a co-signeron the loan or credit card," says Strachan. This includes a spouse's or family member's debt.
Demands payment by dubious methods. Demarco-Wettlaufer recalls one glaring tipoff to a collection fraud in which the caller told a consumer, "Since my agency is in Hamilton near where you live, I'll come meet you at a Tim Hortons and you can give me cash."
Whether by credit card, debit transfer, cheque or certified money order, any collection payment must be deposited straight into a valid trust account under the collection agency's legal name. You also have the right to request a receipt that clearly identifies the trust account.
Tips for investigating a suspected scammer
When you get a suspicious call, ask for full details about the caller's identity, the creditor they represent, their collection agency and phone number. You also may voice-record the call. Do not give out any personal details about yourself. Politely say that you will not pay unless you receive written proof of the debt, and ask them to stop calling.
Another key action item is to contact your provincial/territorial consumer protection agency to see whether the caller and their collection agency have active licenses. Ontario Consumer Protection offers an online search tool that you can use to look up collectors by first or last name, as well by collection agency. Protection BC provides a similar feature.
If nothing else, you can enter the names of the collection agent, the agency they purportedly represent, and the creditor's name into an online search engine. To research related scam alerts or online discussions about calls similar to the one you received, add keywords like "complaints" or "fraud" to your search string.
If the agency appears to be legitimate, but you're still uneasy about the caller, contact that agency's management to check if the caller is on the payroll. The company can also confirm whether they authorized the call.
Report the fraudster
Impersonating a collection agent and knowingly demanding repayment of a false debt is a criminal offense.
"As soon as you talk to agency management and agree that the debt is fraudulent, you should report it to the police," says Demarco-Wettlaufer. He adds that his collection agency would also immediately reach out to authorities, acting as a supportive if somewhat ironic ally for consumers.
In addition to contacting local police, Stephen Puddister, strategic media and issues advisor with the communications branch of the Ontario Ministry of Government and Consumer Services, advises that if Ontario residents believe they have been approached by a scammer, they should report the matter to the Canadian Anti-Fraud Centre and Consumer Protection Ontario. These parties can issue public service alerts about collection fraud incidents.
Finally, security expert Strachan encourages consumers to treat encounters with a potential debt scammer as opportunities to order free copies of their credit reports from Canada's credit bureaus, Equifax and Transunion. You should carefully scrutinize those reports for charges resulting from identity theft and other unauthorized transactions.
See related:
Cybercrime is nothing to like or share
;
Why fraudsters target seniors -- and how to fight back
Updated February 18, 2016
Most recent All credit card news Stories