Make your financial resolutions stick
When it comes to making New Year's resolutions, weight-loss and financial goals top the popularity list.
According to a December 2015 New Year's resolution survey conducted by the Allianz Life Insurance Company of North America, 29 per cent of respondents said financial stability was at the top of their list. Only health and wellness came in higher.
"The New Year is definitely the hot money time," says Karen Richardson, a money coach for Money Coaches Canada in Ontario. "The turning of the calendar always feels like the start of something new."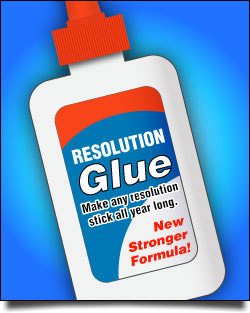 According to a 2013 article from the Toronto Star, only 19 per cent of people who made a resolution in 2012 kept it the whole year. The
same percentage of people didn't make it 24 hours before their resolutions dissolved. But the right planning and a few tricks can help you ease into good money habits. Here's how to make it happen.
1. Track your spending.
That's the first step. Before you begin, you've got to know where
your money is going. For a couple of weeks, record every penny you
spend. This includes fixed expenses and bills.
2. Get the big picture.
Sit down with your newly-collected data and notice what's happening with your money each month. Are you pulling out the credit card to
buy everyday expenses? Unless you're paying it off right away, chances are your financial picture is off-kilter, as you are spending more than you're taking in. Always surprised when you see your bill, or when your city's house tax bill comes due? Your plan needs a readjustment.
3. Create your resolutions.
Now that your money situation is clear, it's time to create resolutions around the problem areas. For instance, if you spend too much on groceries, resolve to shop at discount grocery stores instead of the gourmet shops, or resolve to cut grocery spending by, say, 25 per cent. Or maybe you're wondering how you'll pay for your children's university. Resolve to set up an RESP by, say, March 1. Whatever goal you choose to tackle, be specific, and you'll be more likely to see it through.
4. Make it easy on yourself.
Many New Year's resolutions are forgotten by February because they're too difficult or require superhuman willpower to pull off. Instead, think small, simple and self-sustaining.
Many people hate opening bills that come in the mail, for example, but this reluctance can lead to huge financial implications down the road. Making the small and simple goal to open all bills in the new year can mean the difference between paying down debt and decimating your credit rating. If your grocery bill is what needs revamping, commit to meal planning and slowly work your way down to your desired goal. Start by cutting back by 5 percent one month, then cut back a little more the next, and so on.
If your resolution is to meet a certain monetary goal, make a feasible plan and make it self-sustaining. For instance, to build up an RESP (or any kind of savings), vow to put in a specific, small amount each month. If you can graduate to larger amounts later in the year, do it. Set it up as an automatic payment, too, so you don't have the choice to spend it.
"You just set it up once and forget about it," says Richardson. "Then you can mark it off your list."
The simpler the resolution, the more likely it is to stick. Making a simple resolution and seeing it through could inspire you to stick to longer-term resolutions, too. Achieving a small goal by the end of the first quarter, or even by the end of the year, is better than achieving no goals at all.
Additional reporting by Aaron Broverman.
See related: How to conduct a year-end postmortem on your finances, What to do if you fail your debt consolidation plan
Updated January 7, 2016
Most recent Credit Account Management Stories