How to optimize rewards beyond double-dipping
Some points-earners as so savvy they present a loyalty card at checkout along with their rewards credit card, and double up on points. But how can you maximize your point earnings even more, and how far should you go to do it? Here's how to profit even more from multiple-source points while respecting your lifestyle preferences.
Double-dipping
Double-dipping comes in two basic flavours. One is co-branded dipping under rewards credit cards, such as the American Express Air Miles card, WestJet RBC World Elite MasterCard and TD Aeroplan Visa Platinum, which are directly linked with their respective Air Miles, WestJet and Aeroplan loyalty programs.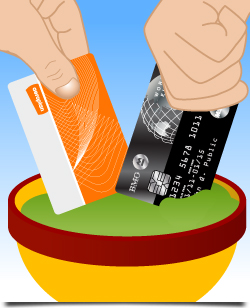 "After getting gas at an Esso station, presenting your Aeroplan loyalty card and then using your co-branded credit card creates a true double-dip, since all those miles go into Aeroplan," explains Patrick Sojka, CEO of Rewards Canada.
Another double-dip variation takes advantage of two unrelated point programs at once. For example, if you use the BMO World Elite
credit card to pay for gas at Esso, you can collect BMO Rewards points and receive miles for swiping your Aeroplan card, since Esso
is an Aeroplan partner.
Finally, there are online opportunities. For example, because flights
are part of the Air Miles reward program, the Air Miles program doesn't allow you to earn miles when you purchase flights directly from a partnering flight provider, such as Air Canada or WestJet.
But you can visit airmilesshops.ca, sign in with your Air Miles card number to buy flights, hotel accommodations or vacation packages through Air Miles travel partners like Expedia.ca or Travelocity.ca.
Turbo-dipping
Sojka says reward bonuses and special promotions enable some cardholders to triple-dip and, in rare cases, quadruple-dip their point earnings.On his Rewards Canada blog, Sojka gives several examples of what might be termed "turbo-dipping."
In one time-limited promotion, you could earn points if you charged a $100 Best Western Travel gift card to your rewards credit card, boosted by an extra 1,000 in bonus Aeroplan miles. You could earn additional points for staying at a qualifying Best Western hotel, thus, a triple-dip.
Another example: collect a welcome bonus via a qualifying purchase (say, if the credit card program offers you extra points if you spend $1,000 in the first month), given that transaction also earns points under the credit card plan and a loyalty program.
Bonuses under either the credit card rewards plan, loyalty program or both enable point collectors to go for the coveted quadruple-dip. Sojka notes that triple and quadruple-dipping opportunities on travel credit cards are often associated with specific flights, hotel stays or car rentals, and are usually time-sensitive. Consequently, he encourages consumers to use email alerts to monitor for these special point promotions.
Using gift cards to double-dip
In a lesser-known scheme, leverage your point earnings with Shoppers gift cards.
Lina Zussino, co-founder of GroceryAlerts.ca, says although customers can't redeem Optimum points for gift cards, RBC Shoppers Optimum MasterCard holders collect Optimum loyalty points when they buy Shoppers gift cards with their MasterCard. But the rewards-point party doesn't end there: consumers can then spend those gift cards at Shoppers to earn even more regular and bonus points.
Sojka adds that British Columbians are using Shoppers-brand gift cards to pay for prescription drugs to boost their Optimum point totals.
"That's how they're bypassing that rule that Shoppers Optimum points aren't awarded on prescription drug purchases," says Sojka.
Keep point collecting sensible
An August 2013 Scotiabank survey shows that 42% of Canadians ranked how quickly they earned reward points as the most important factor in choosing a rewards credit card. While acknowledging that consumers want to amass points as fast as possible under any rewards program, Sojka argues that maximizing points becomes more of a lifestyle question.
"Do you want to go out of your way to shop at retailers where you can double-dip, or do you want the convenience of just going to the store down the street where you can use your rewards credit card but can't swipe the loyalty card?" he asks.
Also consider whether the extra points make up for annual fees and interest costs.
Of course, calculating the value of travel reward points can get complicated because prices for reward flights vary by departure and destination city as well as seasonal availability.
"It's a lot easier with proprietary credit card programs like BMO Rewards and American Express membership rewards since those type of programs have a set return value," says Sojka. "BMO Rewards is an easy one with a 2 per cent return on spending -- that's the value of a point."
Then there are potential redemption hassles that dampen many consumers' enthusiasm for travel point collecting, such as seat restrictions, limited airline choices and blackout periods. Sojka recommends that point collectors be flexible, anticipate a plus or minus three-day variance on departures and arrivals, and be ready to settle for connecting flights rather than direct trips.
Still, if an opportunity presents itself that matches your lifestyle, Sojka says that consumers should just do it when it comes to earning extra reward points. Just don't give up significant savings from an alternative retailer just because they don't offer the same rewards payback.
"No matter what, cash is king," says Sojka. "Reward points are good, but saving a lot of money is better."
See related: Fuel surcharges draining value from airline reward points; Want more rewards? There's an app for that
Updated October 16, 2014
Most recent Reward Programs / Cash Back Cards Stories