A Halloween fright: How to reverse those scary savings habits
More than half of Canadians -- a whopping 62 per cent -- say they just don't have the money to invest after their basic living expenses, according to the Canadian financial services firm Investors Group Inc.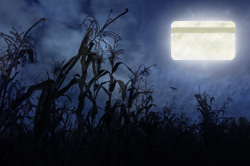 That's a scary statistic given today's aging population, the high price of a secondary education and a volatile real estate market. Canadians simply can't afford to spend every penny on day-to-day living without accumulating savings.
Aurele Courcelles, director of tax and estate planning at Investors Group, offers these tips for trimming the fat on daily expenses and getting started on your nest egg.
1. Stick to a grocery budget.
A recent Investors Group poll revealed that 66 per cent of Canadians say day-to-day living expenses, such as groceries are contributing to their debt load, making it hard to manage costs. For this reason, Courcelles says, "The key to managing household finances is to get a good handle on what your expenses are and then develop a budget that you can stick with."
2. Cut back on entertainment costs.
Another scary statistic: Entertainment and recreation are contributing factors of debt for nearly a quarter (23 per cent) of Canadians. Says Courcelles: "Canadians should take a practical approach in managing their household budgets by implementing selective lifestyle and consumer changes. That giant TV certainly looks great -- but do you really need it? How about that car you want -- does it really need to be new or can it be the same model but a few years old? Canadians need to think before they buy, weigh their options and make prudent purchase decisions." Even if it means cutting back on trips to your favourite restaurant or retailer.
3. Boost your interest earnings.
Investing need not be complicated, according to Courcelles. "The longer you are saving and investing, the more your savings will grow over time," he says. "So start young, or as soon as you can, even if you have to start small. Slow and steady can win the race."
Courcelles provides proof with this mathematical calculation:

Mary invests $2,000 at the beginning of each year between ages 21 and 29, for a total of $18,000 over nine years. Assuming a pre-tax return of 7 per cent, by age 65, she will have approximately $293,000 in savings.
Lynn also invests $2,000 at the beginning of each year with the same pre-tax returns but starts at age 30. To get near Mary's savings total of approximately $293,000, Lynn will need to invest nearly four times as much -- $70,000 over 35 years.
4. Know when to borrow.
Don't discount the benefits of borrowing. "An RRSP loan can be one way to take advantage of unused contribution room, generate tax savings and jump-start your retirement savings," says Courcelles. "The idea behind the loan is that you make a bigger RRSP contribution and you get a big tax refund, which you put towards your loan. Then you make monthly payments until the debt is gone. But you need to think very carefully: how long will it take you to pay back the loan? Having a payback plan is essential."
5. Create a payback plan
A financial advisor can help consumers develop a manageable and realistic payback plan. "The key is to make sure you have a plan to be able to pay off your loan as soon as possible, preferably within a year," says Courcelles. "You can also use your tax refund from your RRSP to help pay off the loan faster."
See related: Study: Ignore your financial advisor and keep savings simple; Canucks get failing grade on retirement planning
Updated October 27, 2011
Most recent Credit Account Management Stories