How to safely use mobile banking
Gone are the days of sitting down at your desktop or, to go even more old-school, with a chequebook ledger to pay bills and keep up with your bank accounts. You don't even have to visit a branch to deposit cheques anymore. Now, you can take care of these tasks at home, on your commute to work or even in line at the checkout. As popular as mobile banking is, however, it's still important to make sure you're doing it safely.
In a 2014 survey by the Canadian Bankers Association (CBA), 31 per cent of Canadians surveyed said they did their banking on their mobile phone, and 43 per cent said they expected to bank on their mobile device in the future. Twenty-six per cent of respondents said their use of mobile banking was increasing.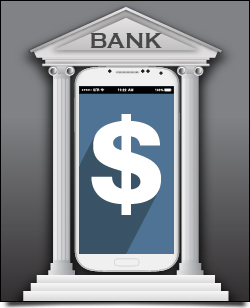 All the Big Five banks (RBC, TD Canada Trust, Scotiabank, BMO and CIBC) offer banking apps. Some common mobile banking tasks include checking account balances, reviewing transactions, managing bill payments and transferring money between accounts.
Security concerns about mobile banking make some Canadians nervous. But Robert Smythe, an associate with IDC Canada, says mobile banking is no different from online banking. In fact, he says, it might be even more secure thanks to a two-step security process (one password to use the phone and another password for the banking app), plus less exposure to the viruses that infect computer browsers.
Smythe adds that accessing your bank account via an app is as safe as using your mobile browser to do so.
As more customers shift their banking behaviour, banks are coming up with new security features for clients. Recently, online-only bank Tangerine, formerly known as ING Canada, added biometric technology to its banking app. The technology includes banking through voice commands and fingerprint recognition security. There also are plans to add voice authentication.
Taking your own safety precautions
As a customer, you should not rely solely on built-in protection, though. Continue to practice good habits to protect yourself from identity theft:
Never connect to public Wi-Fi to do your banking. There's too much exposure and no encryption protecting that connection, so it's easier for hackers to intercept data, says Smythe.
If you lose your phone, notify your bank immediately and disable your smartphone to prevent other people from using it. If need be, you can call your cellphone provider to ask them to disable the phone.
If you use your mobile banking app to deposit a cheque (Tangerine, along with some other Canadian banks, allow customers to take a photo of the check for a convenient deposit), hold onto the cheque until you're certain it's in your account. This can take up to five business days, according to Charaka Kithulegoda, chief information officer of Tangerine. After the cheque goes through, destroy it or write "void" or "electronic deposit" on it to prevent someone else from finding it and depositing it again (especially since it's already endorsed), he added.
Never tell anyone your Internet banking passwords and never write them down or store them on a file in your computer. Make sure the passwords are unique and hard to guess. Do not use a date of birth or public information, such as your mother's maiden name.
Always scrutinize suspicious or unexpected emails. If you don't recognize the sender, don't open it. Only download attachments or click on links from someone you know or a reputable source. If the email you're looking at seems to come from a financial institution and requests you to provide information, contact your bank right away to confirm.
See related:
New prepaid cards woo bank customers
,
Want more rewards? There's an app for that
Published December 3, 2014
Most recent All credit card news Stories