Expert Q&A: How to save for college with an RESP
Outstanding student debt can have an enormous impact on your child's credit rating, not to mention his or her credit card statements. In fact, Statistic Canada reports that the average loan that undergraduates end school with is about $19,000 -- an amount that typically takes nearly 10 years to pay back, according to the Canada Student Loans Program.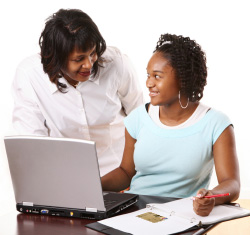 That's not to suggest a post-secondary education isn't a worthwhile investment. The average salary of high school dropouts five years after leaving school is $21,279 compared to Canadian workers with college, university or other post-secondary training who make $33,299 annually, reports Statistics Canada.
Fortunately, Canadians need not rack up their credit cards with textbook purchases or settle for a sky-high interest rate, all for the sake of continuing education. Rather, a Registered Education Savings Plan (RESP) is a great way to save for a child's postsecondary education, say experts.
Sara Kinnear, a senior tax and estate planning specialist for Investors Group in Toronto, explains how to access RESP funds and what the money can be used for so that your credit card doesn't have to bear the brunt of a post-secondary education.
CreditCards.com: What impact can the costs of a post-secondary education have on an individual or family's debt burden?
Sara Kinnear: For recent graduates starting out in the workforce, student debt can be daunting. They often need to postpone other financial goals while they focus on paying off their debt. At the same time, their parents may be feeling financially stressed about helping to pay for their children's post-secondary education while trying to save for retirement or pay off their mortgage.
CreditCards.com: How can an RESP help parents save for a child's post-secondary education?
Kinnear: RESPs are a great way to help ensure financial security for your family and a debt-free post-secondary education for your children. The education savings plan allows for the tax-deferred accumulation of deposits until your child is ready for post-secondary education.
Contributors to RESPs can also take advantage of the Canadian Education Savings Grant (CESG). This grant, introduced by the federal government in 1998, generally equals 20 per cent of the first $2,500 that is contributed to the plan annually. The grant is no longer payable after the end of the year the child turns 17 and the lifetime maximum CESG is $7,200.
CreditCards.com: How are RESP withdrawals taxed?
Kinnear: While you don't get a tax deduction on the money you put into an RESP, your money grows tax-free while it's in the plan. You won't be taxed on the accumulated income and growth until the money is taken out to be used towards education. The good news is that you can withdraw your contributions tax-free, but wait until the child is pursuing post-secondary education.
And if you find yourself in the position of having contributions remaining in the plan at the end of your child's post-secondary experience, you can withdraw them and use them to fund new contributions to another child's plan or withdraw them for personal use.
CreditCards.com: What are some recommended withdrawal strategies?
Kinnear: The way money is withdrawn from the RESP can either cost money or save money. So it's important to understand different withdrawal strategies to help you and your children maximize the plan's value. Try to pay as much of the accumulated income to the student while he or she is in school.
See related: How to get through college with less debt; Tips for leaving college with a degree, not debt
Updated August 31, 2011
Most recent Student Stories
5 money lessons -- and apps -- for kids and teens -- It's important to teach kids about money, and it's easy, too, thanks to these online tools and smartphone apps ...
Growing up: Your teen's first credit card -- The idea of giving your teen a credit card may make you shudder, but with proper guidance, plastic can be a great tool in teaching your older children money management skillsThe idea of giving your teen a credit card may make you shudder, but with proper guidance, plastic can be a great tool in teaching your older children money management skills ...
5 credit card no-nos for students -- While credit cards can serve as convenient payment tools or emergency padding, they can quickly turn into high-interest debt traps for students who use them incorrectly. If you're a student with plastic, try these guidelines to avoid regrets later ...