Expert Q&A: How to turn your trash into cash
It's summertime, and for your average Canadian that means backyard barbecues, cottage getaways and weekend garage sales. More than simply an excuse to recycle dated exercise DVDs, a garage sale is an excellent way to make a little extra money -- and pay off your credit card balance -- selling unused items.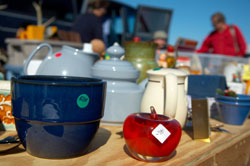 Steven Porter knows a thing or two about holding a successful garage sale. A real estate broker with RE/MAX Aboutowne Realty in Ontario, Porter has seen scores of homeowners put on a garage sale in preparation for an open house. Here, Porter explains why it makes good money sense for credit card holders to throw a winning garage sale in these fleeting summer months.
CreditCards.com: When's the best day and time to hold a garage sale?

Steven Porter: Generally the best time to hold a garage sale is first thing in the morning at about 8:30 or 9:00. This is the time when you can take advantage of others in the area also holding sales and can use the spin-off to your advantage.
CreditCards.com: How can you decide what items you should hold on to, toss or sell?
Porter: This can be tricky. There's an old adage that applies here very well: "One man's garbage is another man's riches." In general, toss anything that is broken, illegal or potentially dangerous. Invite family and friend to sift through your potential sale items before the garage sale. And if you're unsure of the value of an item or suspect it has antique value, get professional advice.
CreditCards.com: How important is it to promote your garage sale? And what are some tips for doing so?
Porter: The success of your garage sale is directly related to the number of people who come to it and buy. So unless you're holding it in the parking lot of a major regional retailer, promote, promote, promote. Small local newspapers sometimes provide free garage sale advertising, along with a garage sale kit, including price tags, signs and banners. There's also lots of free internet advertising these days. Focus on advertisers and community forums that have a direct link or category for your community. Sites like Kijiji and Craigslist work well. Consider posting signs and notices in grocery stores the week before your sale.
CreditCards.com: What's one of the biggest mistakes people make when throwing a garage sale?
Porter: One of the biggest mistakes people make at a garage sale is the same one retailers make: They fail to properly display merchandise and price the product. If people can't see the item or what it is, they won't buy it.
See related: 4 ways to spring clean your finances; 6 tasty ways to cut food costs
Updated July 12, 2011
Most recent Shopping Stories