9 financial experts: 'If you only do one thing this year, do this'
Save money, pay off debt, stay away from your credit card - these are perennial New Year's resolutions for Canadians worried about finances. However, these goals are broad, and financial experts say setting specific, realistic and measureable resolutions are the key to financial success.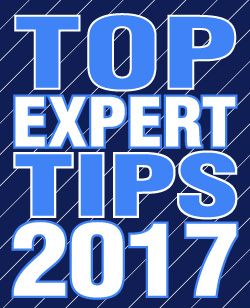 We asked major banks, credit counselling agencies and national financial organizations for one financial tip for Canadians, the one thing they recommend you do, even if all your other resolutions dissolve by February.
Try sticking to at least one of these pieces of advice for a year:
1. Teach your kids to invest in their future.
Many parents establish Registered Education Savings Plans (RESPs) for their kids with the expectation that the funds built up over the years will help their kids graduate debt-free from university.
This is great for kids, but it doesn't teach them how to save for a goal or manage money well.
Let your kids know you expect them to cover a portion of their educational expenses by working on a part-time basis. Help your kids establish a Tax-free Savings Account (TFSA) to transfer the funds, set up a savings account and form a budget.
Your kids will be more inclined to take their studies seriously if they have some skin in the game. They'll have a head start in life with the accumulated savings and they'll learn the importance of saving.
I made this agreement with my own two boys in university. After a couple of years, they will each graduate with $20,000 in their TFSA and no student debt.
- Scott Hannah, president of the Credit Counselling Society
2. Keep your eye on the end goal.
With shaky market conditions expected to continue in 2017, many Canadians may be rethinking their savings strategies. Sit down with a financial adviser who can help you prioritize your goals and recommend the right solutions to stay on track and achieve them faster.
Financial advisers offer free advice without requiring a minimum dollar portfolio. It's important because your savings solutions should be based on the goals you're saving for, but you need help predicting the rate environment -- a step that, if forgotten, can put you behind.
- Ahmad Dajani, Scotiabank VP of retail deposits and investments
3. Use prepaid cards to curb spending.
Reloadable prepaid cards can help you save money and stick to your budget. Foreign currency prepaid cards can be especially useful to plan the amount you spend while on vacation. You can load a little at a time in the months before your trip, then you will have a healthy budget for your trip without it all coming out of your pocket at once.
Canadian dollar prepaid cards can help you manage your day-to-day spending on discretionary purchases.
- Geoff Weiss, CIBC senior vice president of deposits and client solutions
4. Revisit your budget, or make a new one.
Financial literacy is as important as basic numeracy. The knowledge, skills and confidence empowers you to make good financial decisions. The first step in this direction is to have a budget, but fewer than half of Canadians - 46 per cent - have one.
Most people are aware of how much money they make, but they find it hard to keep track of where their money is going or how much their debt costs. A budget helps you see more clearly where your money is going. It helps you live within your means and find ways to get rid of your debts, reduce costs and have more money for things that are really important to you.
- Nastasha Nystrom, spokeswoman for the Financial Consumer Agency of Canada
5. Take advantage of financial technology.
Taking care of your finances doesn't have to feel like work, especially if you use tools such as mobile apps to make saving more fun. For instance, with TD MySpend, every time you make a purchase, you receive a notification that allows you to see if you're on track with your budget. Receiving feedback in real-time makes it easier to stay on top of your spending throughout the month.
And being able to track spending trends by month, by category and in terms of wants and needs, allows you to compete against yourself to cut down spending in the area you need to most.
- Meghan Thomas, spokesperson for TD Bank
6. Pay attention to your occasional expenses.
For the most part, people can meet their monthly bills such as rent or mortgage, utilities, food, gas and other key expenses. The expenses that prove challenging are the items that come up less frequently. These include car maintenance, home maintenance, gifts and holiday expenses, car stickers, vacation and similar irregular costs.
To stay on top of these costs, figure out your average spend on them and allot a monthly amount for that expense. Let's take Christmas, for example. At the start of January, estimate your costs for Christmas and divide that by 12. If you estimate spending $1,000 on Christmas, you'll need to put aside about $83 a month each month. Taking this approach rather than taking on all irregular expenses at once will make it easier on your budget and your wallet.
- Pat White, president of Credit Counselling Canada
7. Be wary of identity theft.
We're encouraging consumers to remain vigilant and take the time to understand the role they should be playing in order to prevent identity theft. Use common sense and be aware of potential security leaks - you wouldn't give information to just anyone offline, so apply the same discretion online.
Make changing your online passwords a regular habit. Use hard-to-guess passwords that include a combination of letters and numbers, and never share your password with anyone.
Finally, look for a company's privacy policy or link to its privacy statement when you visit its website. Pay attention to what information the company gathers, how it's used and with whom it's shared.
- Andrew Perez, spokesman for the Canadian Bankers Association
8. Rake in some free money.
Don't leave money on the table. There are a number of ways, no matter your stage of life, which can help you get an extra boost of income without a lot of extra work.
If you're a student, millions of dollars in scholarships are available - and go unclaimed - every year. Do some research and apply.
If you're working, sign up for programs offered by your employer, such as payroll deduction plans that automatically deduct a set amount from your paycheque into a savings plan. Some employers match retirement plan contributions.
If you're a parent, take advantage of RESPs to help savings grow. A basic grant provides 20 cents on every dollar contributed to the RESP, up to a maximum of $500 on an annual $2,500 contribution.
- Stuart Gray, RBC director of financial planning support
9. Plan a staycation instead of a vacation.
If you go away over the summer, on long weekends or during March break, plan for a staycation - instead of a vacation. This could mean camping in your backyard or renting a cottage close to home.
With the fluctuating dollar, rising interest rates and uncertain economy, now is not the time to plan lavish vacations overseas or down south. Why not enjoy the beauty of the surroundings near where you live, save money and be stress-free?
- Laurie Campbell, CEO of Credit Canada Debt Solutions
See related: Get specific: Details determine resolution success, How to conduct a year-end postmortem on your finances
Updated January 4, 2017
Most recent All credit card news Stories