Card issuers face clear writing review
If you find credit card documents confusing, you're not alone. In fact, such confusion led the Financial Consumer Agency of Canada (FCAC) to instill plain language guidelines in 2009. Even with such rules in place, however, some institutions do not make materials understandable, provoking a clear writing renaissance aimed at financial institutions.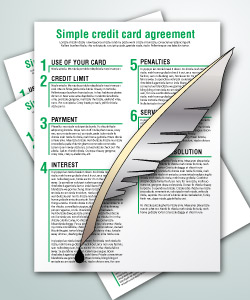 In March 2013, the FCAC fined a bank $225,000 for failing to clearly disclose how credit card interest was calculated. The FCAC Commissioner's ruling noted that, without this knowledge, consumers couldn't identify statement errors or compare interest costs with other card issuers.
Plain language expert Dr. Richard Lauchman says the main goal of most contracts is to protect the financial institution and that clarity is an afterthought.
"In many cases, a reader is right to suspect that the writer's choices -- words, phrasing, sentence length, layout, pitch -- are actually designed to make the text difficult to understand," says Lauchman.
The FCAC plans to vet credit-related communications from federally regulated financial institutions (FRFIs). Its goal is to assess how well client-facing documents comply with the plain language provision in Canada's Cost of Borrowing Regulations, which requires FRFIs to use easily-understood wording that is simple and direct.
Transitioning to communications that readers can quickly grasp involves a long-term commitment and comes with many challenges.
"It's like pushing a big boulder up a hill," says Darlene Shura, a plain language expert and founder of the Canadian Centre for Clear Communication. "Some organizations are very uncomfortable giving up legal language. They are concerned that any other way of communicating will be inaccurate or will inadequately protect them. It can take time for new skills and new thinking to gain traction."
FCAC tests policies
From 2012 to 2013, the FCAC tested the clear writing policies and procedures of 59 FRFIs that offer lending products. Under scrutiny was whether FRFI processes for developing consumer disclosure materials satisfied five clear language principles that ask institutions to:
Know their audience;
Make material understandable by planning the text;
Write clearly;
Use visual presentation to enhance text; and
Test the material.
Generally, results were disappointing.
Although FCAC spokesperson Natasha Nystrom acknowledges that several financial institutions proved they had complete clear language policies and procedures, the FCAC concluded that most had not adequately complied with the government agency's principles and guidelines.
The FCAC has asked FRFIs to develop plans that resolve deficiencies in their writing processes.
FCAC leads by example
In its upcoming review, the FCAC will focus on the actual documents that financial institutions provide consumers. The consumer agency spearheaded the industry-wide project after re-engineering the information design of its own website, for which the FCAC enlisted the help of literacy and clear communication experts. Also on the FCAC's website are examples of a plain language credit card application form and plain language credit agreement.
Audience reactions to the revamped website seem positive. The FCAC's 2012-2013 Annual Report highlights a 109 per cent annual gain in online visits and 147 per cent more downloads of consumer education materials.
Readability project challenges
Nystrom concedes the audit of financial institution documents is in its early planning stages. She also notes that the FCAC has not yet determined how the review will be conducted or whether readability software will play any role.
Lauchman cautions against relying on writing technology. No readability formula can tell whether content clearly conveys the correct information, he says. "Clarity cannot be measured," says Lauchman. "We are people writing to people, and our judgment is what counts."
Another reality is that materials like credit card agreements are legal documents, often targeting lawyers as the primary audience, not consumers.
According to Shura, studies show the average reading level in Canada is around grade 9. Among the bank cardholder agreements for the top five Canada banks, the average score on the widely-used Flesch-Kincaid grade level readability scale was grade 16.
"These scores may not tell the whole story, but they do point to the extent of the problem," she says. "The scores can also help writers measure their progress in improving some of the key aspects of readability."
Finally, the distinctly Canadian challenge is that readable versions are necessary in both official languages. "FCAC expects FRFIs to apply the elements of its clear language guidance to French and English documents," says Nystrom. "The location of an FRFI's head office has no bearing on this expectation."
Industry says it's on board
Of Canada's five big banks, only RBC was willing to discuss how the bank is going about changing its consumer documents to meet clear language standards.
"When drafting disclosures and agreements, RBC reviews all appropriate statutes and regulations to ensure that plain language requirements are adhered to," states Prashant Sharma, RBC's vice president of retail credit cards. Sharma also says that RBC has ensured that its internal plain language policies are consistent with FCAC guidelines.
The Canadian Bankers Association (CBA), a financial lobbying group, also confirmed its support for the FCAC's clear language initiative.
"We recognize the importance of having informed customers who understand the documents they are signing: it makes sense both from a business perspective and a customer service perspective," writes CBA media relations specialist Kate Payne.
See related:
Dealing with deceptive credit card advertisements
;
Poor math skills contribute to Canadian debt problems
Updated February 3, 2014
Most recent All credit card news Stories